50 Watt FIRE POLICE Siren and PA Microphone 12v 115db 3 Sound
Item #: ACHRYH-7638
Manufacturer: Assured Performance Sirens
Manufacturer's Product Number: ACHRYH-7638
Condition: New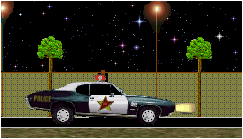 *FREE SHIPPING!!!
*For Continental U.S. Shipments ONLY
Check Out our Video Below.
Video of this horn on display.

Of course this video does not do justice to just how loud this Police Siren is
Can be Mounted in Engine Compartment.
Louder than Car Horn!!
Compact Size-Super Loud
Easy 12v Install
Perfect for Cars, Trucks & SUVs
Great for UTV, ATV, Golfcarts, Motorcycles
---
Siren Specs:
Part# ACHRYH-7638
Required Voltage: 12
50 Watts
DB: 115
Amperage: 1500mA
Voice Coil Impedance: 4 Ohm
Tone: 3 Sounds
Speaker Dimensions: 4.75''H x 4.75''W x 5.75''D
Rated Current: 1500mA @ 12vDC
Material: Black ABS
Microphone Wire Length: 72''
Microphone Holder: Included
Mounting Hardware: Included
*This Siren kit is so fun, it may be illegal!!
Check your local laws before messing up your buddies.
*3 Police Siren Sounds, Mic. Button Controlled.
*Works on any 12v system.
*Easy to fit in small compartments.
*Includes Install instructions.
*Easy Hookup.
*Up to 20 Times Louder than OE Horn.
This 50 watt siren is a great little 3 tone siren and PA system that is super easy to install. This police siren speaker is weather proof and can be mounted in in a location that gets wet. The PA microphone assembly is NOT weather proof and needs to be mounted in a dry location. This emergency siren kit only draws 1.5amps so it can be installed on just about any 12vDC system. We sell many of these to volunteer firefighters for their vehicles warning system. If you are looking for a siren to get the attention of others, without spending a fortune, this is your answer.
---
*FREE SHIPPING!!!
*For Continental U.S. Shipments ONLY