Kleinn 630 Air Horns Triple Trumpet Train Horn Chrome 154db
Item #: ACKLN-630
Manufacturer: Kleinn Automotive Horns
Manufacturer's Product Number: 630
Condition: New

Kleinn Automotive Air Horns
Authorized Dealer
FREE SHIPPING!!!
for Continental U.S. Shipments ONLY
Too Loud? Too Bad!!
If you're looking for the loudest, nastiest horn there is, look no further. The Kleinn Model 630 is the ultimate train horn for your car, truck or SUV. The trumpets mount separately for easy installation. Fully upgradeable with our Viair On Board Air Systems for the ultimate kit.
This horn can be mounted anywhere on the vehicle as long as it's facing at a downward angle.
The trumpets are removable from mounting plate so reconfiguration for fitment is possible.
The trumpets can be configured to fit most vehicles.
This Horn Requires an Air Source to Operate
Works Best from 125psi-160psi Air Systems
If You Need A Complete Kit with Air System
CLICK HERE or Call Us
---
Kleinn 630 Features & Specs:
Chrome Plated Spun Copper Removable Trumpets
Votex 7 / 12vDC Heavy Duty Brass Body Solenoid
Detachable Trumpets
Trumpet Diameter: 7.5''
Trumpet Lengths: 17.5'', 15.5', 11.5'
Overall Dimension: 18.3'' Long x 185'' Wide x 7.2' Tall
Max PSI Input: 175
Output (db) @ 150psi: 154.4
Mounting Hardware: Included
Inline Trumpet Mounting
*Can fit these trumpets in tight areas like behind a bumper
Includes Mfg 1 Year Warranty
---
You can use OE Horn Switch (steering wheel) to activate solenoid.
You don't want to use your OE Horn Switch??
Choose option to include Horn Button Switch.
OR
Do you want to Look and Feel like a Big Trucker???
Choose option to include Manual Air Valve Kit w/Lanyard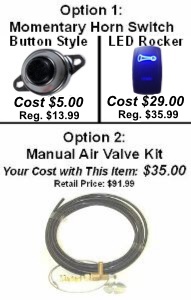 CLICK HERE TO VIEW MANUAL VALVE KIT
---
*FREE SHIPPING!!!
*For Continental U.S. Shipments ONLY