S&B Cold Air Intake Dry Filter for 17-19 Chevy Colorado 75-5089d
Item #: ACSBF75-5089d-CHEV
Manufacturer: S&B Filters
Manufacturer's Product Number: 75-5089d
Condition: New

**FREE SHIPPING**
Shipments within the Continental U.S. ONLY
S&B Filters® Cold Air Intake
Dry Extendable Air Filter Kit
S&B Part Number: 75-5089d
2019 Chevrolet Colorado 3.6L V6 Gas
2018 Chevrolet Colorado 3.6L V6 Gas
2017 Chevrolet Colorado 3.6L V6 Gas
Do you want with a Cleanable Red-Oiled filter??CLICK HERE
Your vehicle not listed??CLICK HERE
SPECIAL PRODUCT FEATURES:
- Dry Extendable Air Filter - Disposable
- Quicker Acceleration: Reduces Throttle Lag
- More Power: Custom Air Box for Cool, Dense Air
- Clear Domed Lid For EZ Inspection & Filter Removal
- Easy to install(See Instruction Link Below)
- Improves Fuel Economy: lower EGT's and air resistance
- Guaranteed Engine Protection: tested to the ISO 5011 Filtration Standards.
- Stops 99.66% of Dirt
- Air Flow 32.55% BETTER than Stock
Breathe Easy-Your Engine & Warranty Are Protected:
Add power and fun while still protecting your investment
Amazing Air Flow - Solid Protection - Great Looks
Not only is it the best looking intake, but its test results are really what set it apart from the competition. The 75-5089d improves the airflow by 32.55% over the stock system while still maintaining an efficiency rating of 99.66% at 346 CFM.
MAXIMUM PERFORMANCE
This S&B cold air intake for the Colorado / Canyon 3.6L was engineered to minimize air restriction and flows 31.96% better than stock. This kit comes with a fully enclosed airbox that protects the filter from dirt and keeps out engine heat.
PROTECT YOUR ENGINE
This kit comes with a massive, highly-efficient air filter which results in better performance and protects your engine. Available in either 8-layer Cotton Cleanable or Dry Extendable media.
PREMIUM SILICONE PARTS
The seals, couplers, plug & intake scoop are made of a premium silicone rubber that has exceptional tear strength, flexibility for a secure fit and can handle extreme temperatures.
NO MORE CHECK ENGINE LIGHTS
S&B devotes a huge amount of resources to engineer our intakes that allow your engine to run properly with stock calibration or enhanced tuning. This kit was designed to avoid check engine lights with it's properly mapped Mass Air Flow Sensor.
DUAL AIRFLOW OPTIONS
S&B put 2 massive intake port that you can open or close 1 of the ports depending on your airflow requirements.
QUICK & EASY INSTALL
The fit & finish are second to none with S&B air intakes. With the highest regarded instructions on the market, your Colorado/Canyon will be breathing easy in less than 60 minutes.
---
MILLION MILE WARRANTY
S&B air filters and intake kits purchased from Authorized Dealers are backed by S&B's Million Mile Limited Warranty when used under typical driving conditions and on vehicles for which they were designed. If one of our products is not performing properly or is defective, S&B will replace it.
What is not covered by the S&B Warranty- If you use an S&B product for (1) any type of racing or competitive event (2) any off-road use, (3) custom or modified product, (4) any industrial or marine applications, and/or (5) any illegal highway use. If an S&B product is not covered by our million mile warranty, our products are still warranted against manufacturing defects for one year from the date of purchase.

---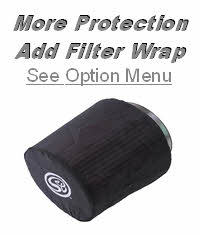 Add To Order In Option Menu
---
FREE SHIPPING
*Shipments within the Continental U.S. ONLY