Description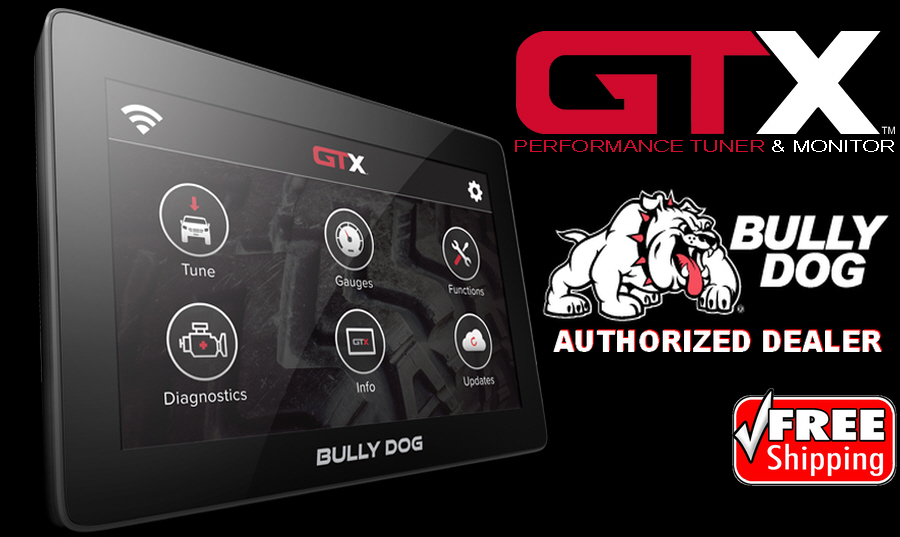 Bully Dog 40460b Touch Screen Monitor and Programmer
Huge Power Gains & MPG Improvements
for 6.4L 6.7L Powerstroke Diesels
and F150 & Mustang Gas Engine Vehicles
See Applications Below
Four Products In One Remarkable Unit:
Engine Tuner • Monitors & Gauges • Diagnostic Device
See Product Video Below
The Bully Dog GTX 40460b is performance tuning, reimagined – no computers necessary. It's the easiest-to-use tuner on the market, loaded with powerful features and our most advanced hardware to-date. The new GTX Performance Programmer starts up in under 10 seconds and is super-responsive, sporting a 5-inch capacitive glass touch screen that rivals today's smartphones. Along with the ability to hold 20 custom tunes, GTX comes preloaded with multiple Bully Dog tuning levels. GTX is also the premier data monitoring solution, giving drivers the ability to monitor the industry's most extensive list of PIDS, or engine parameters, on an easy-to-use device. Its high-resolution customizable gauges and WiFi connectivity add to the truly unparalleled user experience.
Drivers can log vehicle performance data as they drive, and play it back later using Bully Dog's free LiveLink software. GTX also gives users greater insight into their truck by reading out and clearing Diagnostic Trouble Codes (DTCs). GTX's unique grab n' go magnetic mounting system allows the device to be kept front-and-center while driving, and then quickly stowed away when not in use. Finally, for those who want to take their truck to the next level, GTX can receive custom tunes via WiFi from any of Bully Dog's custom tuning dealers around the country.
BDX Highlights:
Instantly Adds HP & TQ to Your Vehicle
"White Knuckle Gains"
Full Color Touch Screen Display
Custom Tuning Capable
Pre-Loaded Tunes
Built-In Wifi for Cloud Based Updates
(No need to use PC for Updating Programmer)
Read and Erase Diagnostic Codes
Tune Your Vehicle in 10-20 Minutes
Holds 20 Custom Tunes
Includes Manufacturer Limited Warranty
---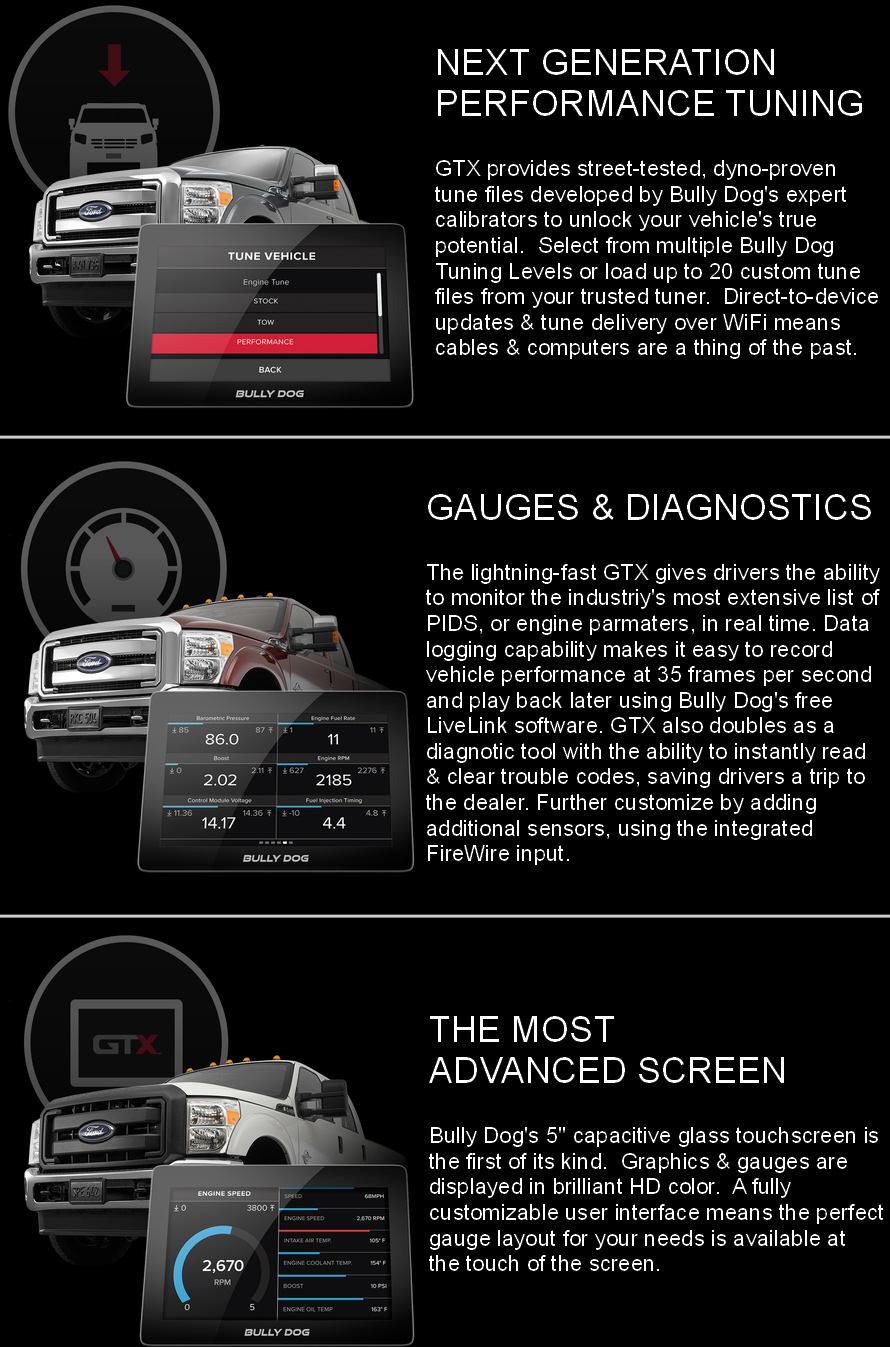 Adjustable Options (Not All Vehicles):
Axle Ratio:
Correct the vehicle speedometer (and fuel efficiency calculations) if you have changed the gear ratio on your vehicle. If no gear ration modifications have been made to the vehicle, then choose the stock setting when the tuner prompts you to choose a gear ratio. This will ensure that no modifications are made to the stock program.
Tire Size
Correct the speedometer if you have changed your tire size from stock.
Idle Speed
Enable and select a value for Engine Idle position. This is a great feature for keeping voltage in the vehicle up while running auxiliary electronics off of the vehicle's power system.
Rev Limiter:
Regulate the highest RPM that an engine can reach before the engine is electronically limited. Increasing the RPM limit is recommended only for racing purposes. One of the most important ways to protect your engine from damage is to keep the RPMs from going too high.
TPMS Adjust:
Change or disable the Tire Pressure Monitoring System.
Transmission Shift Firmness:
Change the shift firmness of an automatic transmission.
Intake Airbox:
Allows an aftermarket intake to be run on the vehicle without a Check Engine Light. For Intake Kits that require tuning, this will provide a selection of available intake kits.
Headers:
Allows adjustment for Longtube headers.
Traction Control:
Allows you to disable the vehicles Traction Control without using the button in the vehicle.
Global Spark (gas models)
Add or remove timing advance to the entire RPM range.
Speed Limiter:
Change the top speed that the vehicle will reach before the engine automatically limits the power needed to go faster.
INCLUDES MANUFACTURER LIMITED WARRANTY
---
Bully Dog GTX 40460b Pre-Tuned For:
2008-2010 Ford F250 6.4L Powerstroke Diesel
2008-2010 Ford F350 6.4L Powerstroke Diesel
2011-2019 Ford F250 6.7L Powerstroke Diesel
2011-2019 Ford F350 6.7L Powerstroke Diesel
2015-2019 Ford F150 3.5L Eco-Boost Turbo
2015-2019 Ford F150 5.0L
2017-2019 Ford F150 Raptor 3.5L Eco-Boost Turbo
2015-2019 Ford Mustang 2.7L Eco-Boost Turbo
2015-2016 Ford Mustang 3.7L
2015-2019 Ford Mustang 5.0L
2017-2019 Ford Mustang350 5.2L
GTX includes 3 Dyno Tunes:
11-12 Superduty 6.7L +88 H.P. / 101 Ft-Lbs Torque
13-14 Superduty 6.7L +135 H.P. / 151 Ft-Lbs Torque
14-16 Superduty 6.7L +110 H.P. / 211 Ft-Lbs Torque
---
Check Out The Bully Dog BDX Product Video
INCLUDES MANUFACTURER LIMITED WARRANTY
---
Includes Bully Dog / SCT Full Mfg Warranty
Need Help Ordering??
Give Us A Call And We Can Assist You- CLICK HERE
Purchase with confidence, we are an
Authorized Bully Dog / SCT Dealer.
---
*FREE SHIPPING!!!
*For Continental U.S. Shipments ONLY