Description

Assured Performance Products
Single Trumpet Truck Horn
Rectangle Trumpet Truck Air Horn
Check Out our Video Below.
Actual Horn in the GMC Yukon-See Video.
CLICK HERE TO WATCH ON YOUTUBE
This video does not do justice to just how loud this 150db Truck Air Horn really is!!
The Single Trumpet Air Horn has a great sounding mono-tone.
This kit is perfect for Cars, Trucks and SUVs.
Our Assured Performance ACHRSK-650 horn is great for use on your RV or motorhome.
This A.P. Single Trumpet Air Horn is made of zinc-Great shine-NO Rusting
This Assured Performance Air Horn has that awesome Big Rig tone.
This item is for the A.P. Single Trumpet Air Horn ONLY
This single trumpet air horn needs an air supply to operate.
We recommend 120psi to 175psi air pressure for this horn.
If you do not have an air supply you are in luck
we have complete kits available – CLICK HERE
---
A.P. SingleTrumpet Air Horn Specs:
Part# ACHRSK-650
DB: 150 @ 10M(150psi)
Solenoid(Electric Air Valve): Included (12v/24v).
Trumpets: 1
Outlet Dimension of Trumpet: 4.0" H x 7.6" W
Length of Trumpet: 24.25''
Trumpet Material: CHROME Plated Zinc(non-corrosive)
Mounting Hardware: Included
Mirror Finish-Trumpets will look like new for years to come.
Works on any 12v or 24v system.
Rated for 100- 175 psi max.
Front and Rear Mounting Locations.
Can fit this trumpets in tight areas like behind a bumper.
Can be Roof Mounted.
Protective Bug or Snow Shield on Trumpet Bell.
This Item Does NOT Include Air System Needed
Do You Need An On Board Air Supply??
CLICK HERE To View This Horn / Viair OBA Kits
---
Assured Performance Single Trumpet Air Horn
This Assured Performance Single Trumpet Truck Horn will get you noticed and will wake up inattentive drivers that share the road with you. This Assured Performance ACHRSK-650 airhorn sold exclusively by Assured Automotive Company.
This is a popular truck air horn that will work in cars, RV, SUV and of course make for a great pickup truck air horn. The A.P. single trumpet design makes is easy for installers to mount the trumpet. This AP horn is designed for roof mounting, but can be mounted anywhere on a vehicle.  Some popular spots for mounting this horn is behind front bumper or between radiator and grill. The quality of this truck horn is something you will appreciate years down the road.
This air horn has zinc trumpets that will not rust to discolor for many, many years. The diaphragm housing is made of cast aluminum and are powder coated black. The diaphragms are mage of stainless steel. This air horn is not for the average person, this horn is no whimpy horn. When you add 120-200 psi of reserved air to those diaphragms it will blow you away on how loud it is. super loud.
How does this air horn work..
The Assured performance Single Trumpet Truck Horn includes a 12v/24v air solenoid, or some call it electric air valve.  When you install you will run an air supply air line from your air tank to the solenoid input.  This solenoid has 1/8″ NPT female threads so you can use any fitting you need for your air tubing.
Once you have the tubing connected from your tank to the solenoid it is time to wire it up. There are 2 wires on the solenoid, ground one of the wires. The other wire goes to a momentary switch (or your steering wheel switch wiring).  When you apply dc power to the solenoid via your switch it will open the valve allowing the air to enter the horn manifold.  This will blast those horn diaphragms on this single trumpet air horn sounding them.
Do You Need This Single Trumpet Horn w/Air System?  CLICK HERE
---
Need A Horn Switch?
You can use OE Horn Switch (steering wheel) to activate solenoid.
You don't want to use your OE Horn Switch??
Choose option to include Horn Button Switch.
OR
Do you want to Look and Feel like a Big Trucker???
Choose option to include Manual Air Valve Kit w/Lanyard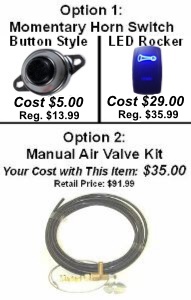 CLICK HERE TO VIEW MANUAL VALVE KIT
---
*FREE SHIPPING!!!
*For Continental U.S. Shipments ONLY