Description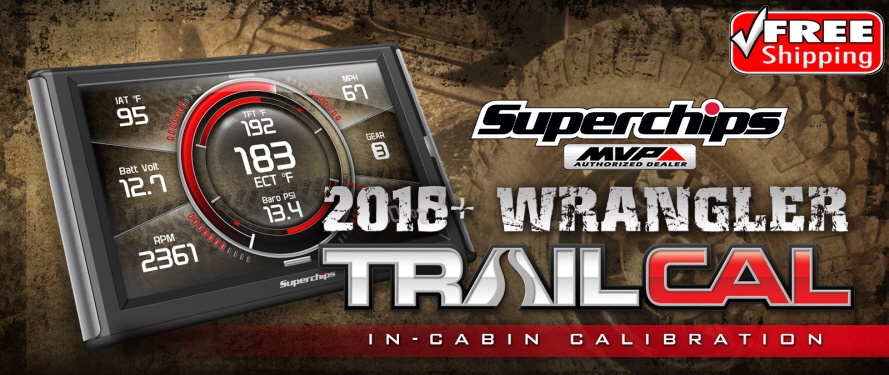 Superchips 41051-JL TrailCal
Touch Screen Calibrator for:
2018-2020 Jeep Wrangler JL 3.6L 2 Door
2018-2020 Jeep Wrangler JL Unlimited 3.6L 4 Door
**See Complete List Below **
This Calibrates ONLY – No Performance Tunes
The TrailCal Has It All
The Superchips 41051-JL TrailCal is an all-new, premium product designed for the 2018-UP Jeep® Wrangler® JL 3.6L. Superchips TrailCal offers monitoring, calibration, and control features without any modifications to the vehicle. Calibrate for larger aftermarket tires, adjust for gear ratio changes, and enjoy best-in-class monitoring and control features, all without popping the hood.
A Jeep JK Owners Favorite Calibrator
When you go off-roading in your Jeep® the experience will be incomplete without the Superchips TrailCal.  The TraiCal becomes your Jeep's command center by using the revolutionary EAS (Expandable Accessory System).
The EAS (not included w/this purchase) will allow you to connect multiple accessories. The daisy chain style connect directly to the TrailCal. You can now control your offroad lights, monitor PSI and temps all with a touch of a button on your TrailCal.
Make sure you check out the Superchips EAS Power Switch to accompany your new TrailCal.
CLICK HERE FOR EAS POWER SWITCH (PN 98609)
---
Superchips 41051-JL Features
50 State Legal – CARB Compliant
Touch Screen – EZ Setup – Installs In Minutes
In-Cab Monitoring
Monitor for Back Up Camera (camera not included)
(CLICK HERE FOR BACKUP CAMERA)
Control Accessories (Lights, Lockers, etc.)
OBDII Plug Wiring
Tuner Windshield Mount
EZ to Read Instructions (U.S. Tech Support)
Monitor Features:
Slick-Slim 5″, Full-Color, High-Resolution, Touch Screen
Custom Color Mixer for Gauge Arcs, Needles, & Backgrounds
Multiple Gauge Screen Layouts
Power Switch Gauge Screen to Engage LED Lights & Other Accessories
Fully Customizable Backgrounds
Inclinometer gauges
Customizable digital gauges
(Reads numerous PIDs)
Maintenance Manager
Performance tests
Corrects speedometer for tire upgrades between 26" – 42"
Speedometer recalibration for gear /axle swaps
Swaybar Disconnect
Engine idle adjustability for winching
Daytime running light options
One touch lane change
TPMS On/Off & Adjust (Download required)
Monitor includes video input and can run backup or other camera accessories
** Will NOT Increase Power – CARB Compliant
More TrailCal Features:
Gear Ratio: 2.0-10.0
Low Gear Ratio: 1.0-15.0
Tire Size: 22.50-40.00
TPMS On Off
TPMS Threshold: 22-64 PSI
Daytime Running Lights
High Beams/Low Beams
Turn Signals/Fog Lights/Stock
Fog with High Beams
Idle Up: 800-2000 RPMs
One-Touch Turn Signal: ON/OFF
Swaybar Connect/Disconnect: ON/OFF
Auto Start/Stop: On/Off
Auto Traction Control: On/Off
Daytime Running Lights with Turn Signal: On/Off
Available Data Parameters:
Barometric Pressure
Engine Coolant Temp
Intake Air Temp
Engine RPM
Battery Voltage
Vehicle Speed
Fuel Remaining
Ambient Air Temp
Knock Sensor 1
Knock Sensor 2
Global Knock Sensor
Mass Air Flow
Spark Timing
Trans Fluid Temp
Gear (Auto Only)
Throttle Position
Corrected Speed
Mileage Inst.
Time 0 to 60
Time Quarter Mile
Mileage Avg.
Mileage Coach
Run Time
Trip Odometer
G-Force Lateral
G-Force Calculated
Percent Grade
Horse Power
Torque
G-Force
Trans Fluid Temp (Calc)
---
The Superchips 41051 Calibrates:
Jeep Wrangler:

2020 Jeep Wrangler JL 3.6L
2019 Jeep Wrangler JL 3.6L
2018 Jeep Wrangler JL 3.6L
---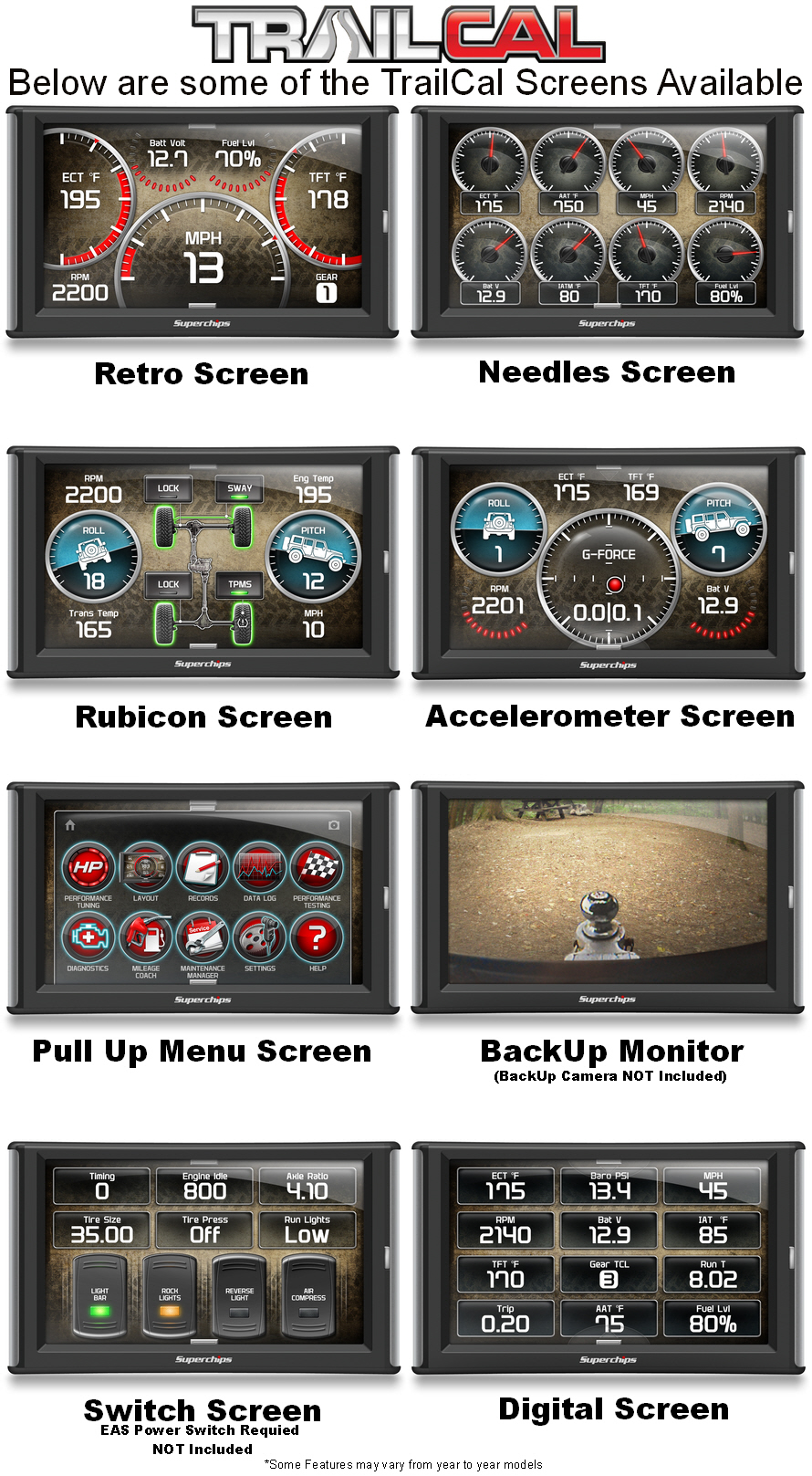 ---
Includes Superchips Products Full Mfg Warranty
Need Help Ordering??
Give Us A Call And We Can Assist You- CLICK HERE
Purchase with confidence, we are an
Authorized MVP Superchips Powerteq Dealer.
---
*FREE SHIPPING!!!
*For Continental U.S. Shipments ONLY