Description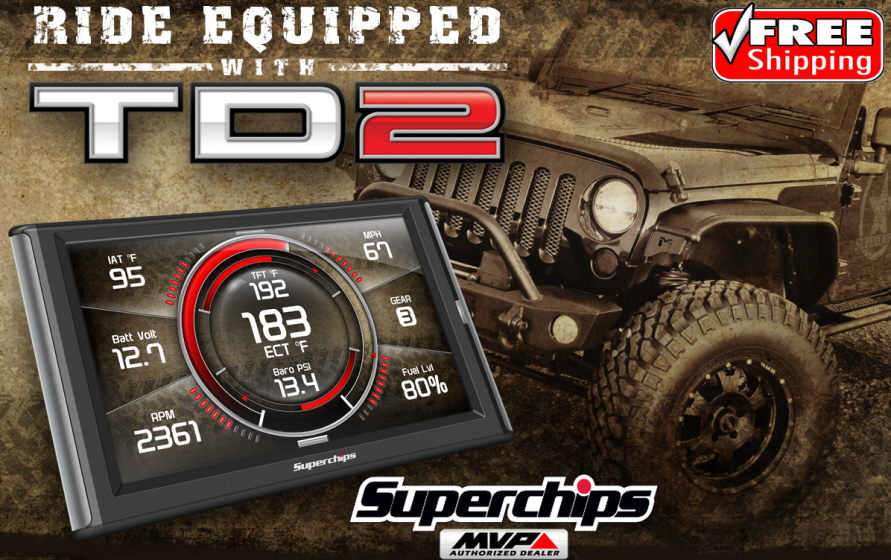 Superchips 42051 TrailDash2 TD2
Touch Screen Tuner for:
2015-2018 Jeep Wrangler JK 2 Door
2015-2018 Jeep Wrangler JK Unlimited 4 Door

**THIS PRODUCT REQUIRES ECM SWAP IN ORDER TO TUNE YOUR JEEP**
The ECM swap is a FREE Service when purchasing from Assured Automotive Co.
Contact Us for ECM Swap Instructions
The Traildash TD2 Has It All
The Superchips 42051 TD2 is now bigger and better. That's how Superchips describe TrailDash2 (TD2). Superchips completed the streamlined new look.  Superchips engineers added one simple HDMI style plug for power and linking EAS accessories. Engage your lockers, bypass TPMS, and more with the Rubicon screen! The all-new EAS switch screen enables you to engage your lights, and other mods on your Jeep. Check out all the screen images and details below.
The TrailDash2 is the most desired tuner and monitor for the Jeep Wranglers.
A Jeep JK Owners Favorite
The TrailDash2 has many features that have been proven in all driving conditions, using the trail tune to the street tunes. The trail tunes or crawl tunes have been tested at may different attitudes and weather conditions.
Street modes allow you select from Economy for better fuel mileage to a towing to a performance tune for max power. Use Crawl tune when on the trail.
The Superchips 42051 TD2 can also can be used a monitor for video. The video port allows users to connect to Edge/Superchips 28201 state-of-the-art back-up camera(sold separately) or any other compatible off-the-shelf backup camera or video source.
Monitor Countless Vitals w/EAS
The TraiDash2 becomes your Jeep's command center by using the revolutionary EAS (Expandable Accessory System). EAS (not included w/this purchase) will allow you to connect multiple accessories, daisy-chain style, directly to the TrailDash. Control your offroad lights, Monitor PSI and temps all with a touch of a button on your TrailDash2.
Make sure you check out the Superchips EAS Power Switch to accompany your new TrailDash2.
CLICK HERE FOR EAS POWER SWITCH (PN 98609)
---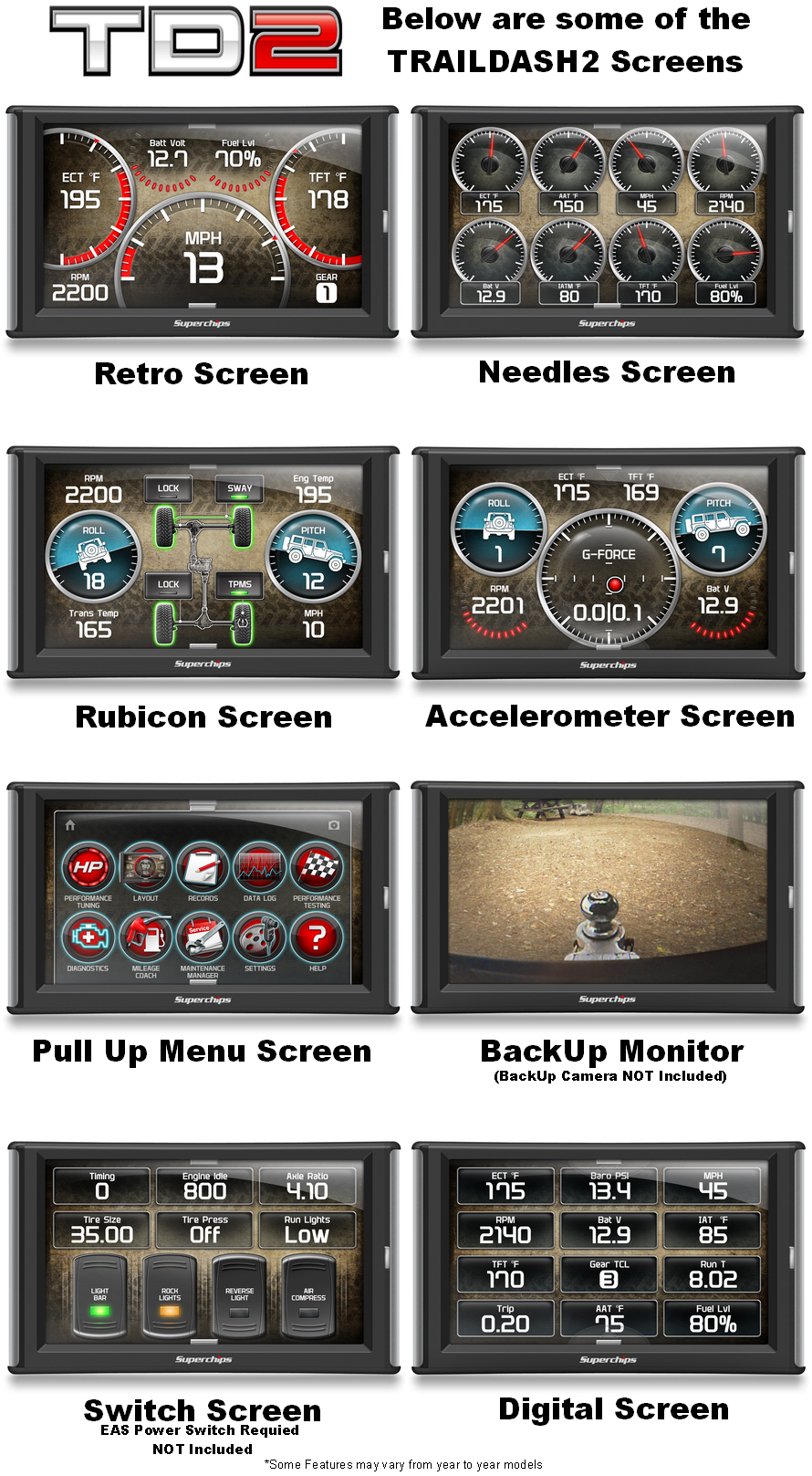 Monitor Features:
Slick-Slim 5″, Full-Color, High-Resolution, Touch Screen
Custom Color Mixer for Gauge Arcs, Needles, & Backgrounds
Multiple Gauge Screen Layouts
Power Switch Gauge Screen to Engage LED Lights & Other Accessories
Fully Customizable BackgroundsEasy Menu Navigation
Customizable digital gauges (Reads numerous PIDs)
Maintenance Manager (schedule and track maintenance)
Performance tests
Monitor includes video input and can run backup or other camera accessories
* Note: TrailDash2 has not been validated or tested on right hand drive Jeeps
Additional Features:
In-Cab Monitoring
Custom Background/ MyStyle
Video Capable
Screen Auto-Dim
Compatible With Expandable Accessory System (EAS)
Alerts And Records
Custom Pod/Mount Available
Display True Speed On Monitor
Speedometer Correction
Shift Firmness – Superchips optimized
Speed Limiter
Idle UP
Sway Bar Disable
Data Acquisition
DTC Read & Clear
Power Gains – + 30.0 HP & + 30.0 lb-ft
TPMS Options Available (Download Required)
Available Tunes*:
93 Performance
91 Performance
87 Performance
Heavy Load Towing
CRAWL
Fuel Economy
Factory Stock
*Features may vary based on year, make, and model
---
The Superchips 42051 Tunes:
Jeep Wrangler:

2018 Jeep Wrangler JK 3.6L
2017 Jeep Wrangler JK 3.6L
2016 Jeep Wrangler JK 3.6L
2015 Jeep Wrangler JK 3.8L

---
Includes Superchips Products Full Mfg Warranty
Need Help Ordering??
Give Us A Call And We Can Assist You- CLICK HERE
Purchase with confidence, we are an
Authorized MVP Superchips Powerteq Dealer.
---
*FREE SHIPPING!!!
*For Continental U.S. Shipments ONLY