Description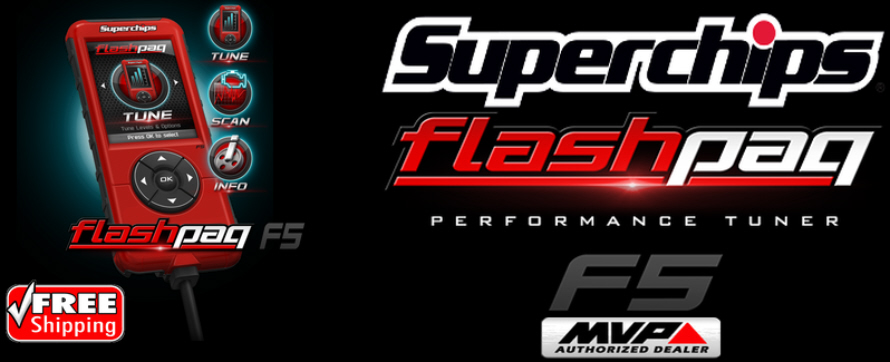 Superchips 2845 FlashPaq F5 Chevrolet Handheld Tuner
This Superchips FlashPaq Programmer For:
2001-2016 GMC Sierra 2500HD 3500 Duramax
1999-2016 GMC Sierra 1500 2500HD 3500 Gas
1999-2016 GMC Yukon and Yukon XL Gas
2001-2015 Cadillac Escalade
**See Complete List Below **

---
Superchips 2845 FlashPaq F5 Programmer Highlights
The Superchips 2845 Flashpaq F5 Tuner is the all-in-one solution to adding power and performance to your 1999-2016 GM Gas Engines PLUS 2001-2016 GM 6.6L Duramax. The Flashpaq F5 is a handheld performance programmer with an easy-to-use, high-resolution color screen that comes complete with scanning features and of course performance tuning for your truck. The Flashpaq F5 offers more power per dollar than any other tuner on the market and is backed by an industry leading 2-year powertrain warranty!
50 State Legal
EZ Programming
Increase Fuel Economy (up to 20%)
Huge H.P. and Torque Gains
Increase Overall Performance
A Must Have If You Tow or Haul Heavy Loads
Free U.S. Based Tech Support
---
FEATURES:
Internet Updateable
2 Year Powertrain Warranty
High-Definition 2.8″ Color Screen
Reads & Clears Diagnostic Trouble Codes
Performance, Economy, Daily Driving & Extreme Tuning
Increased Memory & Faster Processor For Improved Tuning & Updatiing
Speed Limiter
Rev Limiter – Edge optimized
Drivetrain Tuning
More Horsepower and Torque Gains than Other Programmers
Automatic Trans Optimization
Calibrate Speedometer for Axle Gear and Tire Size
Advanced Programming Selections from Rev Limits to Shift Points
Accurately Monitor Engine and Transmission Parameters
Backlit Screen for Easy to Read Night Use
Custom Application Updateable
USB Connections
Increased User Options for More Tuning Control
***Some Above Features are NOT available on all vehicles***
---
Pre-Loaded Diesel Tunes:
GM Duramax
2001-2016 GMC Sierra 2500HD 6.6L Duramax Diesel
2007-2016 GMC Sierra 3500HD 6.6L Duramax Diesel
2001-2007 GMC Sierra 3500 6.6L Duramax Diesel
Cab & Chassis Models NOT Supported
Duramax Diesel Power Gains:
11-15 LML 6.6L +80.0 HP / +170.0 lb-ft TQ
7.5-10 LMM 6.6L +77.0 HP / +117.0 lb-ft TQ
02-07 LB7 LLY LBZ 6.6L +119.9 HP / +206.4 lb-ft TQ
01-01 LB7 6.6L +88.9 HP / +41.4 lb-ft TQ
---
Pre-Loaded Gas Tunes:
Cadillac
1999-2000 Cadillac Escalade 5.7L
2001-2007 Cadillac Escalade 5.3L
2001-2006 Cadillac Escalade 6.0L
2008-2016 Cadillac Escalade 6.2L
2004-2005 Cadillac CTS-V 5.7L
GMC
2016-2016 GMC Sierra 1500 4.3L
1999-2013 GMC Sierra 1500 4.8L
1999-2016 GMC Sierra 1500 5.3L
1999-2016 GMC Sierra 1500 5.3L
1999-2008 GMC Sierra 1500 6.0L
2010-2016 GMC Sierra 1500 6.2L
1999-2016 GMC Sierra 2500HD/3500HD 6.0L
2001-2007 GMC Sierra 2500HD/3500 8.1L
2008-2009 GMC Canyon 5.3L
2003-2004 GMC Envoy 5.3L
2007-2016 GMC Denali 6.2L
1999-2008 GMC Yukon XL 4.8L
1999-2016 GMC Yukon XL 5.3L
2009-2010 GMC Yukon XL 6.0L
2001-2007 GMC Yukon XL 8.1L
2000-2008 GMC Yukon XL Denali 6.0L
2014-2016 GMC Yukon XL Denali 6.2L
1999-2009 GMC Yukon 4.8L
1999-2016 GMC Yukon 5.3L
Power Gains(Extreme Tune Setting):

4.8L 1999-2013 16HP / 20 ft lbs
5.3L 1999-2015 15HP / 15 ft lbs
6.0L 1999-2013 21HP / 25 ft lbs
6.0L 2014-2018 50HP / 50 ft lbs
6.2L 2009-2016 14HP / 16 ft lbs
6.2L 2017-2018 25HP / 43 ft lbs
---
Includes Edge Products Full Mfg Warranty
Need Help Ordering??
Give Us A Call And We Can Assist You- CLICK HERE
Purchase with confidence, we are an
Authorized MVP Edge Powerteq Dealer.
---
*FREE SHIPPING!!!
*For Continental U.S. Shipments ONLY