Description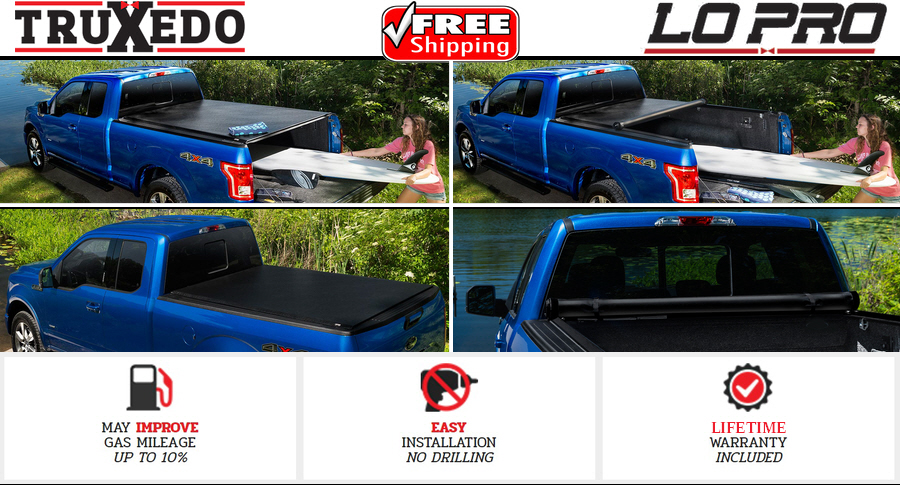 Truxedo 579601 Lo Pro Tonneau Cover
Fits:
2017-2022 Ford F250 F3510 F450 Super Duty *
* Models with 8.2 Foot (98″) (8′ -2″) Long Beds ONLY

If Above Listed Is Not Your Vehicle  CLICK HERE
The Truxedo 579601 Lo Pro is a sleek, low-profile design is the signature of the Lo Pro.  Therefore heavy-duty construction and the patented automatic tension control keeps the cover looking great in any weather condition. Therefore the Lo Pro mounts inside the rails of the truck bed, providing full access to stake pocket holes for use with additional accessories.
In conclusion the Lo Pro stylish design, simple functionality, and durable bed protection are what make the Lo Pro North America's #1 selling roll-up truck bed cover. Above all the Lo Pro is Made in the USA and is backed with a Lifetime Warranty.
Truxedo Lo Pro Specs and Features:
Weight Capacity: SNOW LOAD
Style: ROLL UP
Color: BLACK
Material (cover): HEAVY DUTY VINYL
Finish(cover): VINYL GRAIN
Mounting: INSIDE MOUNT(1 inch Tall)
Locking: ALUMINUM TRIGGER LATCH
Includes EZ to Read Install Instructions
Includes Lifetime Mfg Warranty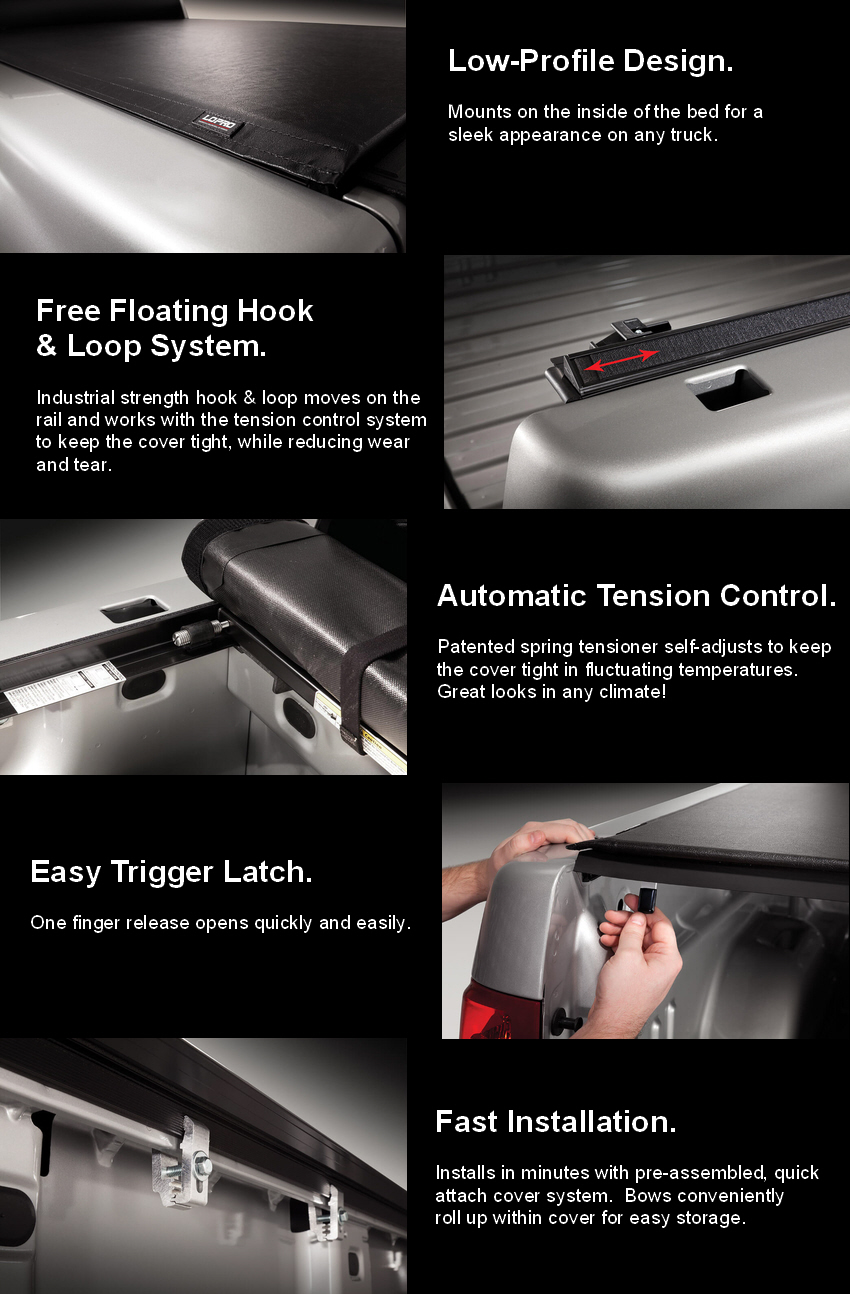 The Lo-Pro has Signature Low Profile Design
Sitting only 3/4" above the truck bed, Lo Pro doesn't distract but enhances your truck's overall appearance.
The LoPro Quick-Release System
The entire cover can be removed in seconds, subsequently without tools, providing true 100% full bed access.
Automatic Tension Control
Likewise, the Truxedo patented design allows the cover to maintain a tight fit and great looks in extreme temperatures and all weather conditions.
Industrial Grade Leather Grain
Firstly the Truxedo Lo Pro is made of the highest quality material, this tear resistant fabric is constructed to help protect your cargo from the harshest of elements.
Super Easy To Latch & Unlatch
Simple Operation Anodized single trigger latch requires only one finger to open the cover. Lastly the cover can be easily removed, without tools, providing true 100% full bed access. As a result you can roll the cover closed with ease to securely store and secure your cargo.
---
Truxedo 579601 Lo Pro Fits:
2022 FORD F250 SUPERDUTY
2021 FORD F250 SUPERDUTY
2020 FORD F250 SUPERDUTY
2019 FORD F250 SUPERDUTY
2018 FORD F250 SUPERDUTY
2017 FORD F250 SUPERDUTY
2022 FORD F350 SUPERDUTY
2021 FORD F350 SUPERDUTY
2020 FORD F350 SUPERDUTY
2019 FORD F350 SUPERDUTY
2018 FORD F350 SUPERDUTY
2017 FORD F350 SUPERDUTY
2022 FORD F450 SUPERDUTY
2021 FORD F450 SUPERDUTY
2020 FORD F450 SUPERDUTY
2019 FORD F450 SUPERDUTY
2018 FORD F450 SUPERDUTY
2017 FORD F450 SUPERDUTY
8′-2" (98") BED ONLY
If Above Is Not Your Vehicle  CLICK HERE
See Promo Video

---
When You Buy From Assured Automotive
You Get A Lifetime TruXedo Warranty
---
Need Help Ordering??
Give Us A Call And We Can Assist You- CLICK HERE
Purchase with confidence, we are an
Authorized Truxedo Dealer.
*FREE SHIPPING!!!
*For Continental U.S. Shipments ONLY