Description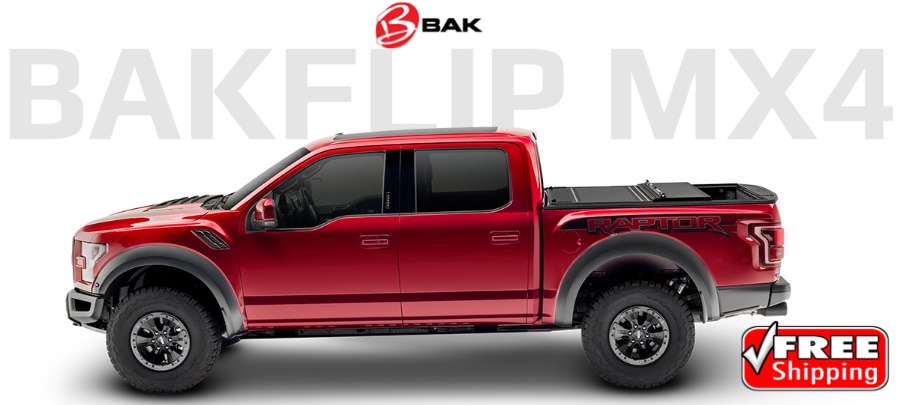 BAKFlip 448310 MX4 Tonneau Cover
Fits:
2008-2016 Ford F250 F350 F450 Super Duty *

* Models with 6.9 Foot (71″) (6′ 9″) Short Beds ONLY
If Above Listed Is Not Your Vehicle  CLICK HERE
BAKFlip MX4 448310, features heavy-duty aluminum matte finish panels that offer superior UV and scratch resistance, and an enhanced premium density foam core. The MX4 is the upgrade to the G2 aluminum series, equipped with upgraded latch housing components, and an all-new integrated tailgate seal that allows the tailgate to close with the cover-up or down.  SEE VIDEO BELOW.
BAKFlip MX4 has all the needed features…Plus….
Upgraded tailgate operation with premium dual action seal
Durable aluminum matte finish panels
Injection molded latch housing for long-term durability
Weight rated up to 400 Lbs.
Premium Density Foam Core
Advanced scratch and scuff resistance
Why Buy BAKFlip MX4?:
The heavy-duty, all-season truck bed cover is designed to perform in the most extreme conditions. The MX4's resilient infrastructure is designed for everyday use, with upgraded components that provide enhanced resistance to the elements without compromising its sleek, low-profile look and feel. The MX4's solid and robust design is flush mount and backed by an extended 3-year warranty.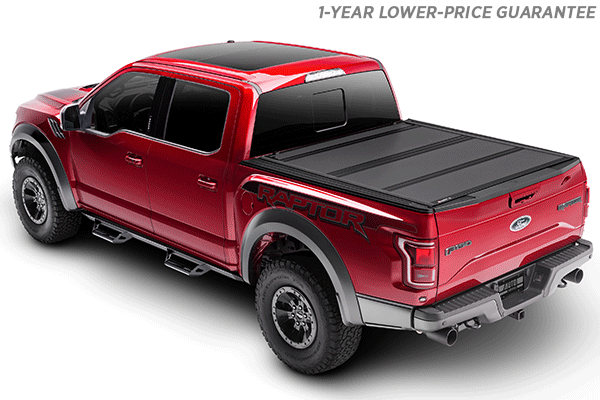 *Price Guarantee: For 12 Months after you purchase this BakFlip Product if we advertised this BakFlip cover for less than what you paid we will credit you the difference. This does NOT include any rebate offers.
---
BakFlip 448310 MX4 Features:
Mfg PN: 448310
Our PN: ACBAK-448310
Weight Capacity: 400 pounds
Cover Style: FOLDING
Cover Color: BLACK (matte)
Mounting: INSIDE MOUNT, Near Flush
Locking: LATCH STYLE (Tail Gate Needs To be Locked)
Includes EZ to Read Install Instructions
Includes 3 Year Mfg Warranty
BakFlip 448310 MX4 Fits:
2016 FORD F250 SUPERDUTY
2015 FORD F250 SUPERDUTY
2014 FORD F250 SUPERDUTY
2013 FORD F250 SUPERDUTY
2012 FORD F250 SUPERDUTY
2011 FORD F250 SUPERDUTY
2010 FORD F250 SUPERDUTY
2009 FORD F250 SUPERDUTY
2008 FORD F250 SUPERDUTY
2016 FORD F250 SUPERDUTY
2015 FORD F350 SUPERDUTY
2014 FORD F350 SUPERDUTY
2013 FORD F350 SUPERDUTY
2012 FORD F350 SUPERDUTY
2011 FORD F350 SUPERDUTY
2010 FORD F350 SUPERDUTY
2009 FORD F350 SUPERDUTY
2008 FORD F350 SUPERDUTY
2016 FORD F450 SUPERDUTY
2015 FORD F450 SUPERDUTY
2014 FORD F450 SUPERDUTY
2013 FORD F450 SUPERDUTY
2012 FORD F450 SUPERDUTY
2011 FORD F450 SUPERDUTY
2010 FORD F450 SUPERDUTY
2009 FORD F450 SUPERDUTY
2008 FORD F450 SUPERDUTY
6′-9" (81") BED ONLY
If Above Is Not Your Vehicle   CLICK HERE
---
---
When You Buy From Assured Automotive
You Get a BakFlip 3 Year Warranty
Need Help Ordering??
Give Us A Call And We Can Assist You- CLICK HERE
Purchase with confidence, we are an
Authorized BakFlip Dealer.
---
*FREE SHIPPING!!!
*For Continental U.S. Shipments ONLY