Description

Bully Dog 40420 GT Platinum Diesel Programmer
Huge Power Gains & MPG Improvements
for Powerstroke | Duramax | Cummins Diesels
See Applications Below
Bully Dog 40420 GT Platinum Diesel Rises Above Others
The Bully Dog GT 40420 is a performance tuner and a monitor all in one device.  You will get more horsepower and torque gains out of your truck or SUV.  The Bully Dog GT also includes a driving coach for help with fuel economy improvements.
Bully Dog's legendary tuning is easy to install into your truck.  All you need to do is plug the GT Tuner into your OBDII Port and perform a simple download to the vehicles ECU.
Bully Dog GT has some of the industry leading features such as on-the-fly power level adjustments, safety defueling, and the exclusive Driving Coach.  The GT Tuner is the premiere all-in-one tuner  that will give you multiple power levels so you can maximize the power and efficiency of your truck.  So if use your truck for towing, daily driving, or on the track then this is your tuner.    The GT Tuner features a full color display with multiple themes and has a day and night time driving mode You can always quickly and clearly monitor important vehicle parameters.  The GT Tuner can be used as a diagnostic tool giving you the ability to read and clear diagnostic trouble codes
Bully Dog Driving Coach
Driving Coach is a special feature designed to help drivers drive more efficiently. It coaches drivers into better driving habits by providing real time visual and audio feedback as to how efficient a driver is driving.  The driving coach also provides the driver with a grade on how efficiently they drove during a trip. This makes driving efficiently, constructive, and fun! Drivers can use the Driving Coach to coach themselves into improved driving habits.  Every driver can challenge themselves to be "The perfect driver".
Parameters Monitored With Performance Gauge Function:
Real Time Fuel economy
Average Fuel economy
Trip Fuel economy
Load %
Coolant Temperature
Fuel Rail Pressure (Diesel)
Manifold Absolute Pressure
Engine RPM
Speed
Timing Position
Air Intake Temperature
Mass Air Flow (grams/sec.)
Throttle Position
Fuel Level
Battery Voltage
Ambient Air Temperature
Transmission Temperature
Pyrometer #1 and 2
(optional Pyro probe sold separately)
Boost
Injection Pulse Width
Barometer
Oil Temperature
Injection Control Pressure
Features:
Increases Horsepower and Torque
Exclusive Driving Coach
All-In-One Gauge Display
Universal Mounting Suction Cup Included
Reads and Clears Diagnostic Trouble Codes (DTC)
Defueling Based On Set Safety Parameters
Initiates DPF Burnoff (Most 2009+ GM / Dodge Models)
Free Internet Updates
Pre-Tuned for The Following Vehicles
2001-2015 Chevrolet Silverado 6.6L Duramax
2001-2015 GMC Sierra 6.6L Duramax
1999-2003 Ford Excursion 7.3L Powwerstroke
1999-2003 Ford F250 F350 7.3L Powwerstroke
2003-2005 Ford Excursion 6.0L Powwerstroke
2003-2007 Ford F250 F350 6.0L Powwerstroke
2007-2010 Ford F250 F350 6.4L Powwerstroke
2011-2019 Ford F250 F350 6.7L Powwerstroke
2003-2007 Dodge Ram 5.9L Cummins
2007-2017 Dodge Ram 5.9L Cummins
*
* 2013-2017 Cummins requires 42214 ECU Unlock Cable
-Add 42214 Unlock Cable In Option Menu–
---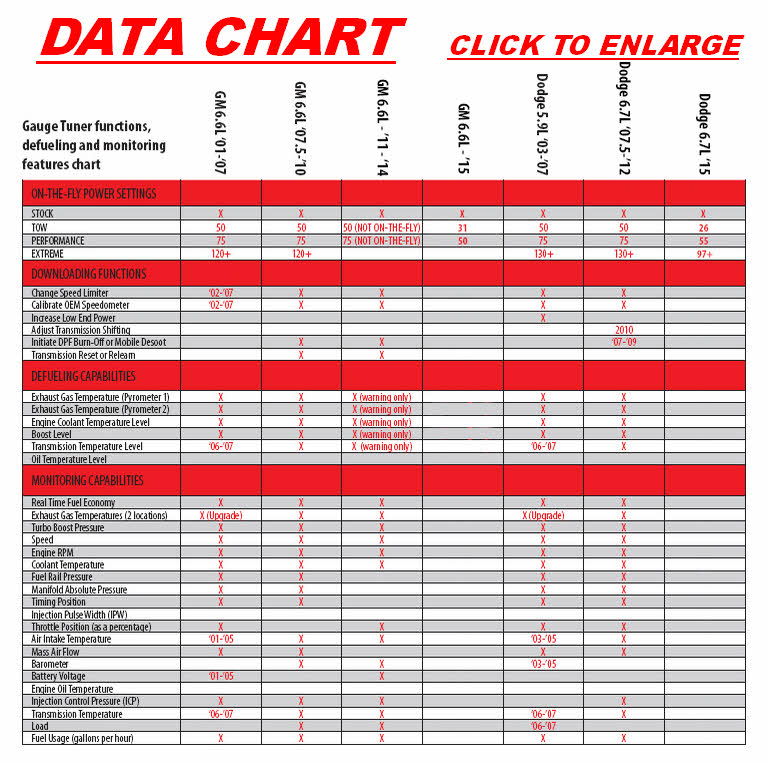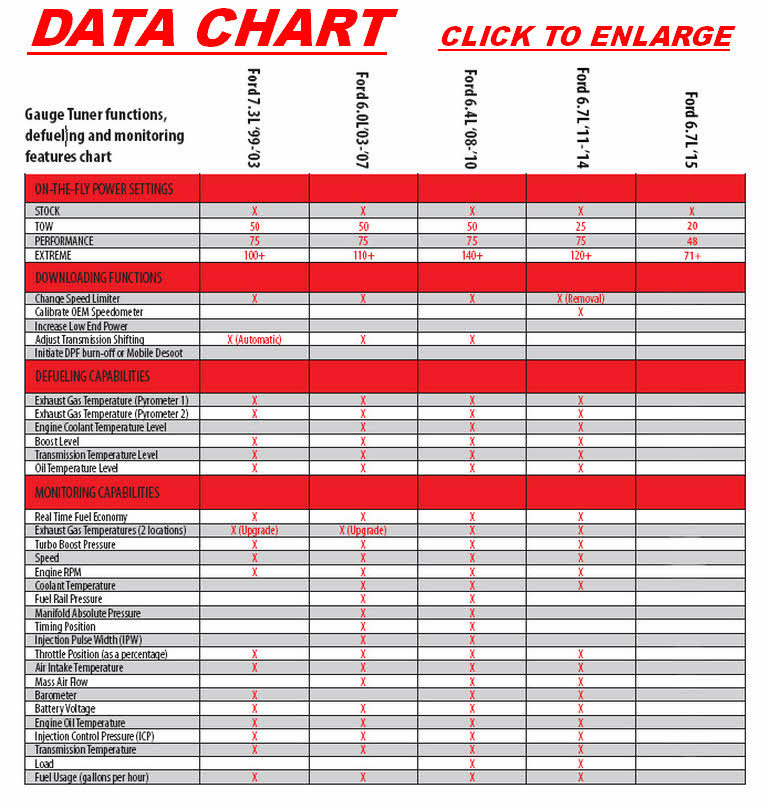 ---
Check Out The Bully Dog In Action…
INCLUDES MANUFACTURER LIMITED WARRANTY
---
Includes Bully Dog / SCT Full Mfg Warranty
Need Help Ordering??
Give Us A Call And We Can Assist You- CLICK HERE
Purchase with confidence, we are an
Authorized Bully Dog / SCT Dealer.
---
*FREE SHIPPING!!!
*For Continental U.S. Shipments ONLY