Description

Edge 86100 Insight PRO CTS2 Touch Screen Monitor
2001-2015 Chevrolet Silverado 6.6L Duramax
2003-2007 Ford F250 F350 6.0L Powwerstroke
2007-2010 Ford F250 F350 6.4L Powwerstroke
2011-2016 Ford F250 F350 6.7L Powwerstroke
2003-2007 Dodge Ram 2500 3500 5.9L Cummins
2001-2015 GMC Sierra 6.6L Duramax

Edge 86100 Insight PRO CTS2 is the Perfect Insight!!
You can now observe and understand your vehicle parameters using Edge 86100 state-of-the-art technology.   The Edge Insight CTS2 delivers unmatched monitoring capability for any OBD II vehicle. This digital gauge display works well with custom tuning products.  The Insight can be used as a stand alone monitor for total insight on how your vehicle is performing.
The Insight is the #1 preferred digital gauge monitor in the market today, used by daily drivers and enthusiasts everywhere.
Take that great monitor and add the ability to load custom tunes gives you the best answer to your custom modified truck. The Insight is the most comprehensive, state-of-the-art, multi-gauge touch-screen display on the market. It is an instantaneous and inexpensive alternative to bulky, analog gauges that would otherwise cost hundreds of dollars and take hours to install. This is the perfect tool for those who want to monitor their vehicle's performance and prefer not to program their vehicle, or for those who already have significant performance upgrades and want to safely monitor their vehicle's performance. Not only can the Insight monitor vehicle performance, but it can also be intelligently configured to provide audible and visual alerts to help you protect your vehicle.
The Edge 84130 CTS2 can also can be used as a video monitor. The video port allows users to connect to Edge 28201 state-of-the-art back-up camera(sold separately) or any other compatible off-the-shelf backup camera or video source.
Edge 86100 CTS2 Features
Slim, sleek case w/5" full–color, high-resolution touch screen
Cloud Based Consumer downloads directly to Insight Pro
Store Up To 4 Custom Tunes
Correct speedometer
Custom color mixer for gauge arcs, needles, and backgrounds
Multiple gauge screen layouts
Fully customizable backgrounds
HDMI style plug for power and linking EAS accessories
Compatible with Optional EGT Pyrometer for Engine Protection
(CLCIK HERE to View EAS EGT Sensor Kit)
One-touch easy menu navigation
Notification center
Available for 1996 and up vehicles equipped with an OBDII (diagnostic) port
Switch between US or Metric units of measure
Comprehensive digital gauge display
Compatible with other tuning devices
Displays dozens of parameters
Compatible with optional Edge Accessory System (EAS)
Includes Light Sensitivity Meter(Dims Screen as Ambient Light Decreases)
Internet Updatable
Expandable (EAS sold separately)
Compatible with optional Edge Accessory System (EAS) to allow users to connect multiple, additional accessories.
View more information on EAS accessories CLICK HERE

---
Gauges:
The Edge 86100 Insight PRO CTS2 monitor unit is a comprehensive gauge package that stays mounted in the cab of the truck and displays up to 8 systems from dozens of available parameters. Monitor vital engine data to ensure the safety of your vehicle.
Switch from US and Metric Units of Measurement
Back-Up Camera(sold separately)
The CTS2 features a built-in video port that allows users to connect the state-of-the-art Edge back-up camera, or other compatible video source directly to the CTS2 unit. View back-up camera CLICK HERE.
Data Logging Software
Fine tune your runs on the track, or prolong the life of your tow vehicle by identifying out of range parameters. The CTS2 Data Logging feature can show you crucial data to help you identify the "sweet spots" as well as potential problems on your driving experience. Shaving a few tenths of a second off your race time, or running a few degrees cooler make all the difference. The data logging feature allows for a comprehensive, accurate picture of the vehicle's condition, such as temperatures, pressures, speed, and more!
Log and store up to 10 unique logs at a time
Log hours of data
View and graph logs on your PC using the new MyStyle Software
View all parameters or pick which ones you want to view
---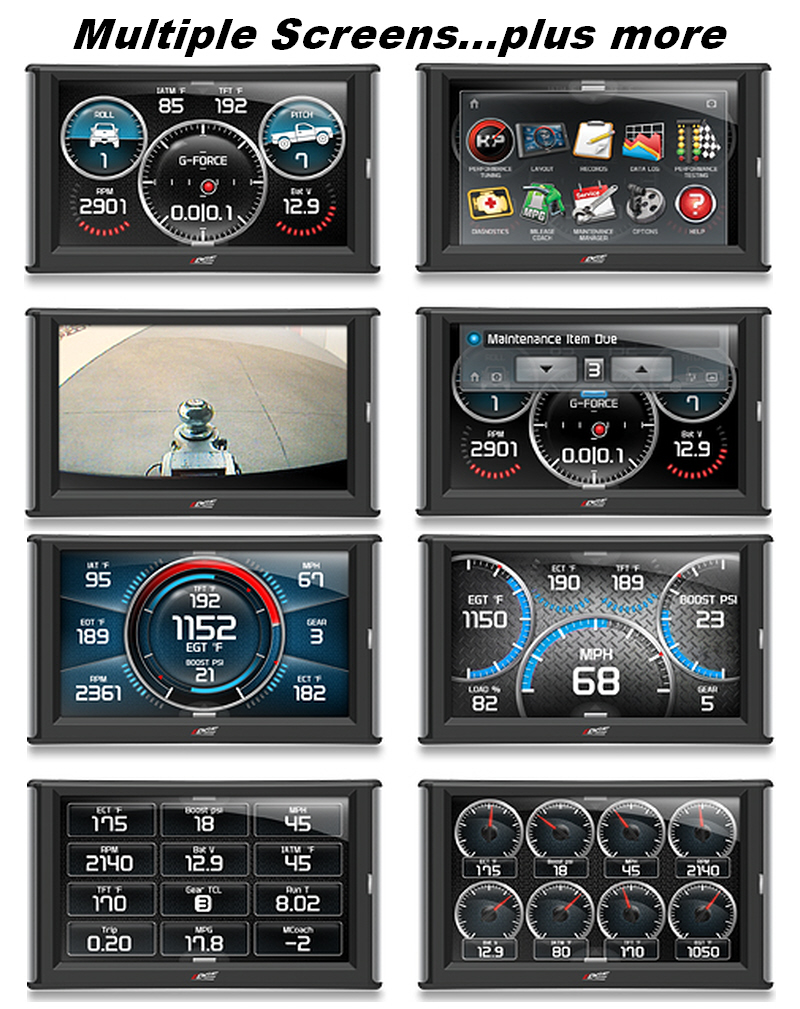 INCLUDES MANUFACTURER LIMITED WARRANTY
---
Includes Edge Products Full Mfg Warranty
Need Help Ordering??
Give Us A Call And We Can Assist You- CLICK HERE
Purchase with confidence, we are an
Authorized MVP Edge Powerteq Dealer.
---
*FREE SHIPPING!!!
*For Continental U.S. Shipments ONLY