Description

Assured Performance Black Motorcycle Air Horn
12v Air Horn – Built In Air Compressor – Dual Tone
Check Out Our Demo Video Below
CLICK HERE TO WATCH ON YOUTUBE
This video does not do justice to just how cool this 135db* motorcycle air horn are.
The A.P. motorcycle Air Horn can be mounted in engine compartment.
This is great novelty item for anyone!!
It has a simple wiring design and can literally be installed in just minutes.
Super Easy 12v Install
The Assured Performance horn will work on Cars, Trucks, & SUVs,
It is awesome for Motorcycles, UTV & Golfcarts.
This Assured Performance horn is super easy to install.
The horn has a built in air compressor so mounting is a single bolt.
The A.P. motorcycle air horn weather proof and can be mounted in in a location that gets wet.
This motorcycle air horn draws about 15-20 amps so there is need to use an included relay.
This Horn can be installed to anything that has a 12v DC battery.
The ACHRSK-213rd is a fun horn that looks awesome with it's sleek design.
If you are looking for something to bring joy to other road users without spending a fortune, this is your answer.
ACHRSK-213b Specs:
Part#  ACHRSK-213b
DB: 135 @ 10cm (530-680Hz)
Compressor Life Cycle: 100,000 operations
Tone: Dual
Horn Dimensions: 4.2"H x 4.6"W x 3.2"D
Amp Draw: 18
Material: Black ABS
Installation Instructions: YES
Mounting Hardware: YES
Relay Included: YES
Wiring Included: NO
Switch Included: NO (use OE or Add Switch in options)
Instructions: Included
Assured Performance 90 Day Warranty
---
How To Operate The Assured Performance Motorcycle Air Horn.
This Motorcycle Air Horn kit just needs a 12 volt power source.
When you activate your horn switch and provide 12 volts to the built in air compressor it will sound the horn. The mounting of the horn could not be easier. Assured Performance ACHRSK-213rd uses just a single bolt mount.
The solid state construction of the compressor is quality that you will be impressed with for years.
Wiring The Horn.
This Assured Performance Motorcycle Air Horn are so simple to install.  You first need a momentary switch.  You can use your factory OE horn switch (steering wheel) or you can use you own switch.  Assured Automotive offers a deals on switches, see the options.
The bottom of the compressor motor you will find 2 terminals, a negative spade & a positive spade. There are many leads, four of which plugs into the snail horns. On the bottom of the compressor motor are 2 terminals. The negative (-) terminal needs to be wired to battery negative or a ground along with the relay #86 terminal.  The positive (+) terminal on compressor wires to the #87 terminal on the relay.  The #30 terminal on relay gets wired to 12v positive on your battery.  Almost done, then from your monetary switch or the positive wire coming from your OE horn switch goes to the #85 terminal on relay.
Don't worry, we include illustrated instructions – CLICK HERE
---
Select Your Horn Switch or Use Your Factory OE Switch
You can use OE Horn Switch (steering wheel) to activate solenoid.
If you don't want to use your OE horn switch you may choose to install a momentary horn switch.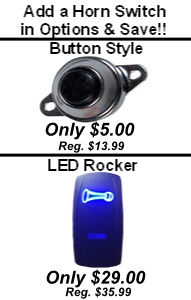 ---
*FREE SHIPPING!!!
*For Continental U.S. Shipments ONLY