Description

Pedal Commander PC65-BT Throttle Booster
Bluetooth Control-Use Apple or Google Play Phone APP
Four Adjustable Control Modes with Nine Different Setting Each…..
36 Different Modes Total
ECO Mode for Increase in Fuel Economy by Up To 20%
CITY Mode is for Daily Driving with a 1:1 Pedal-To-Throttle Accel Ratio
SPORT Mode gives a 70% Faster Throttle Response over Stock
SPORT+ Mode is Race Car Response and Most Extreme
---
The Pedal Commander PC65-BT is for:
2007-2020 Cadillac Escalade ALL 6.0L 6.2L
2007-2013 Chevrolet Avalanche 5.3L 6.0L Gas
2008-2018 Chevrolet Silverado 1500 4.3L 4.8L 5.3L 6.0L 6.2L Gas
.2008-2019 Chevrolet Silverado 2500HD 6.0L Gas
2008-2019 Chevrolet Silverado 2500HD 6.6L Duramax Diesel
.2008-2019 Chevrolet Silverado 2500HD 6.0L Gas
2008-2019 Chevrolet Silverado 3500HD 6.6L Duramax Diesel
2007-2020 Chevrolet Suburban 5.3L 6.0L 6.2L
2007-2020 Chevrolet Tahoe 4.8L 5.3L 6.0L 6.2L

2008-2018 GMC Sierra 1500 4.3L 4.8L 5.3L 6.0L 6.2L Gas
.2008-2019 GMC Sierra 2500HD 6.0L Gas
2008-2019 GMC Sierra 2500HD 6.6L Duramax Diesel
.2008-2019 GMC Sierra 3500HD 6.0L Gas
2008-2019 GMC Sierra 3500HD 6.6L Duramax Diesel
2007-2020 GMC Yukon 4.8L 5.3L 6.0L 6.2L
2007-2020 GMC Yukon XL 5.3L 6.0L 6.2L
This PC65-BT Covers A Lot More GM Models
That Are NOT Listed Above-CONTACT US
---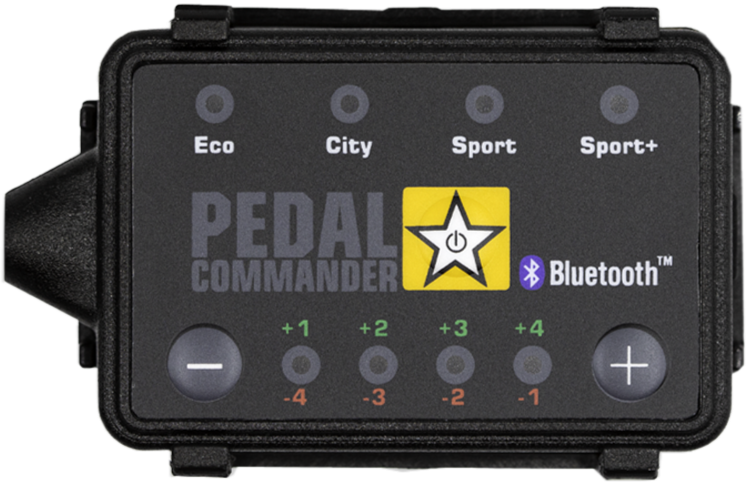 Nowadays, vehicles are notorious for their delayed throttle response. This delay is most noticeable when trying to speed up to merge with fast moving traffic or pass a slower moving car
That's where the Pedal Commander comes in. The Pedal Commander Bluetooth Throttle Response Controller eliminates that delayed throttled response, and will give your vehicle a drastic night and day difference in performance.
– Super Easy To Operate-Use the Controller or use your Smart Phone. Free download of Pedal Commander APP in Apple or Google Play.
– Compatible with Aftermarket Tuners and Programmers. The Pedal Commander can be used in conjunction with common aftermarket OBD-II programmers and/or monitors such as: SCT, Diablosport, Hypertech, Superchips, Bully Dog, and Edge
– Find Your Perfect Mode with 36 modes to choose from you will be able to find the perfect mode for your driving situation. City mode​ is perfect for daily driving. Many of our customers say that city mode allows the vehicle to accelerate as it should have from the factory. It gives you the response of an "old school" throttle cable with a 1:1 pedal-to-throttle acceleration ratio.
– Super Easy Plug-N-Play Installation. The Pedal Commander Throttle Response Controller connects directly into the stock throttle position sensor found on the drive-by-wire gas pedal using an OEM style plug and play connector with no permanent modifications required.
– Will NOT Void Your Vehicle's Warranty. The Pedal Commander does not leave any footprint and does NOT change or reprogram your vehicle ECU.
– 2 YEAR WARRANTY from Pedal Commander When You Buy From US. An Authorized Pedal Commander Dealer
---
Includes Pedal Commander 24 Month Full Mfg Warranty When You Buy From Authorized Dealer
Need Help Ordering??
Give Us A Call And We Can Assist You- CLICK HERE
Purchase with confidence, we are an
Authorized Pedal Commander Dealer.
---
*FREE SHIPPING!!!
*For Continental U.S. Shipments ONLY