Description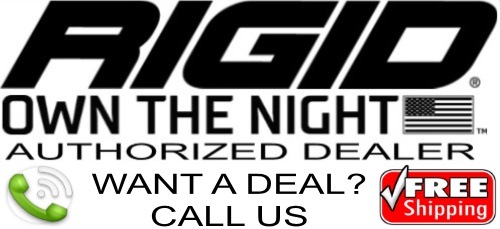 Rigid 64011 Reflect Mirror Kit
Pair of Rigid Reflect Mirrors with  LED Lights
White Projection with Amber Turn or Marker Lights
Producing over 7550 Lumens and only drawing 4.3 AMPS
Designed to mount to any 1.75" to 2" OD Pipe
Rigid 64011 Drop-On Mirrors for your UTV with Built-In Rigid Side Shooter Lights
While there's more than a few off-road lighting solutions for your average UTV or Side-by-Side, none really give you the off-center side lighting you need to when you're rocketing down the trail, much less come built-in to a set of rear-view mirrors for your off-road toy. Meanwhile meet the Rigid Reflect Off-Road LED Lighted Mirrors. The Reflect Mirrors feature the same LED technology found in Rigid Industries awesome D-Series Side Shooters.  Likewise they put into a pair of rear-view mirrors that easily attach to your UTV or Side-by-Side's rails, giving your rig awesome levels of flank lighting along with a full view of what's going on behind you. The Reflect Mirrors also feature a rugged, aggressive look that will make your toy look like one of the baddest things out there on the trail.
Features Rigid's Side Shooter Optics with Independently Adjusted Mirror and Lights.
The Rigid Reflect Mirrors are built around Rigid's high-powered LEDs and unique side-shooter design so that your UTV gets one of the most unique and handy light patterns around. Each set of mirrors uses Rigid's specialized Side Shooter optics and lenticular lens to produce a beam pattern that lights up your UTV at its sides and forward so that you can use them in conjunction with other off-road lights to get almost total coverage around your vehicle.
Therefore the housing attaches to your UTV using a 1.75″ to 2.00″ adjustable tube mount with a breakaway joint to help prevent damage to your UTV if the Reflect mirrors get caught on brush or an obstacle. Subsequently each set of Reflect Mirrors even has built-in amber LED accessory lights that can be used as low-visibility or running lights. Above all the light and the mirror's reflective surface can be independently adjusted to perfectly fine-tune the Reflect system's function for your UTV.  Secondly the bezels surrounding the mirrors are removable, and can be painted to match your toy. Also the Reflect mirrors includes a 3-wire lead that can be tied into your UTV's aux switches or a custom switch.
LED Lifetime – 50,000+ hours (yes thats correct 50,000+ hours!).
LEDs are solid state devices with no moving parts. Rigid LED Lights are able to withstand shock and vibration better than traditional Halogen, HID and Xenon lights. The expanded life of the LED means that theyll last for over 50,000 hour compared to Halogen and Xenon lights which typically last up to 1,000 and 5,000 hours respectively. Considering the extreme conditions in the marine environment, Rigid LEDs are the logical choice for all your lighting needs.
Reflect Light Features:
Rigid PN: 64011
Mount Type: Bolt Down Pole Mount
Sold As Pair ONLY
IP68 Compliant – Dust / Water Ingress
High Impact Poly Carbonate Lens
3-wire Open Lead for Convenient Wiring
Convex Mirror for Enhanced Field of Vision
Break Away Joint for Damage Prevention
Fully Adjustable 1.75″ – 2.0″ Tube Mount Included
Integrated Amber LEDs for use as Running Light or Turn Signals
Side Shooter Optic & Lenticular Lens for Enhanced Beam Width
Light & Mirror Can Be Independently Adjusted
Removable Trim Bezel Can Be Painted to Match Vehicle
Wiring Harness Included
EZ to Read Install Instructions
Specs:
LEDs (each mirror): 9 Projection & 2 Turn
LED Color: White (projection) / Amber (turn)
9-15 Volt DC
AMP Draw @ 14vDC (each mirror): 2.3
Raw Lumens (each Mirror): 3775
Lux @ 10m (each Mirror): 43
Beam Distance (Meters) (each mirror) : 66
Includes Rigid 1 year Warranty on Housing, Body and Clamp
Includes Rigid Lifetime Limited Warranty On LEDS
A U.S.A. Company

Need Help Ordering?? or Get A Smokin Deal!!
Give Us A Call And We Can Assist You- CLICK HERE
Purchase with confidence, we are an
Authorized Rigid Industries Dealer.
---
*FREE SHIPPING!!!
*For Continental U.S. Shipments ONLY