Description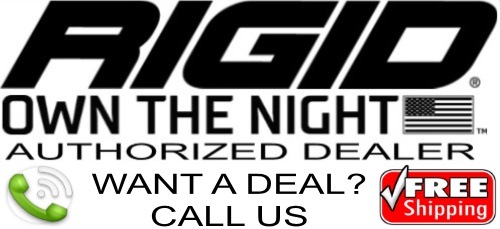 Rigid 925113 SRQ-Series PRO LED Light s
Pair of Rigid Flood Beam Projection – Hybrid Optics
Flush Mount
Over 6300 Lumens!!
SRQ Series PRO (Professional Race Output)

Rigid SR-Q Series PRO
The Rigid 925113 SR-Q PRO is a sleek low profile lighting option that packs more lighting output than ever before thanks to recent improvements to the advanced LEDs inside. The SR-Q Professional Race Output now emits up to 102% more raw lumens, depending on optic. An excellent choice for any application where space is limited, the SR-Q PRO makes auxiliary lighting professional grade. A single row of LEDs and is available in multiple beam patterns, including Spot, Flood, Driving, Hyperspot, and Diffused. Other recent updates to the SR-Q PRO include updated RIGID branding and blacked out circuit boards for a more refined look.
The Rigid Industries 925113 SR-Q Series PRO LED Light is one of the most versatile lighting products on the market today. This compact LED light can be used for virtually any lighting application – from off-road to agriculture. The SR-Q utilizes the same technology as our D-Series, but in a wide configuration, instead of square. The size and shape of the SR-Q LED Light allows it to fit almost anywhere. Its cast aluminum housing and polycarbonate lens are sealed against the elements for years of trouble-free operation.
Flush Mount
This particular model is specifically designed to be recessed into a truck bumper, a utility bed, the hull of a boat, or any application where you need the light to look clean and be out of the way. Once installed, the light is only 1/4″ tall, which means you can have all the benefits of our surface mount lights in an OEM quality, flush installation.
Perfect for Cars, Trucks and SUV's
A Must for ALL Vehicles
Mount In Bumpers or Headache Racks
These Work Great for Back Up Lights
Rigid 925113 Specs:
RIGID PN: 925113
Available LED Color: WHITE
Projection: Flood
Voltage Needed: 9-36 VDC
Watts: 64 (32 each)
AMP Draw: 4.58 (2.29 each)
LED's: 8 (4 each)
Raw Lumens: 6336  (3168 each)
Beam Distance(meters)at 1 LUX: 83 (each)
Fixture Size: 6.3"W. x 2.35"H. x 2.25"D (each)
Not Legal for Highway Use
1 sale = 2 Light Fixtures
Includes:
Mounting Bracket/Hardware
Mounting Hardware
Plug-n-Play Wire Harness
Deutsch Electrical Connector and Switch
Features:
Patented Hybrid Optics
20° Flood Pattern
50,000+ Hr LED Lifespan
Instant On / Off – No Warm Up
RoHS Compliant
Over / Under Voltage Protection
Cast Aluminum Housing
Durable Polycarbonate Lens
Virtually Unbreakable Lens
Integrated Thermal Management
GORE® Pressure Equalizing Vent
Designed and Engineered in the USA
Sealed Deutsch Connector
A U.S.A. Company
RIGID Limited Lifetime Warranty
---


---
Below is Install Video of Flush Mount Lights
---
Why RIGID Lights??
Get More for less by Going GREEN!
The Rigid LED will decrease your expenses and reduce your power consumption. Most importantly, the Measurement of Light is Lumens per watt. How much light is produced for every watt of electricity used?  The need for generators, for example,  is reduced and not a drain on your battery compared to tradition lighting. With 10 years+ of redefining LED Lighting for the Power Sports Industries, Rigid Industries patented technologies and high performance products continue to raise the bar.
LED Lifetime – 50,000+ hours
The Rigid LEDs are solid state devices with no moving parts, therefore, they are able to withstand shock and vibration better than the traditional Halogen, HID and Xenon lights.  The expanded life of the LED means that they will last for over 50,000 hour.  However,  compared to Halogen and Xenon lights which typically last up to 1,000 and 5,000 hours respectively.  Most importantly, after considering the extreme conditions of the off road environment,  Rigid LEDs are the logical choice for all your lighting needs.
---
Includes Rigid Industries Limited Lifetime Warranty
Need Help Ordering??
Give Us A Call And We Can Assist You- CLICK HERE
Purchase with confidence, we are an
Authorized Rigid Industries Dealer.
---
*FREE SHIPPING!!!
*For Continental U.S. Shipments ONLY