Description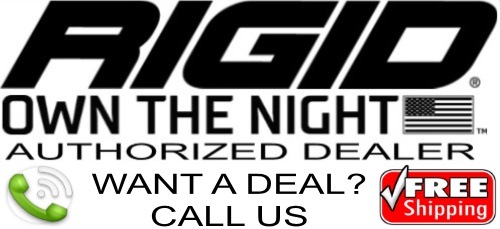 Rigid D-Series Light Covers
RIGID Protective Light Covers
For DUALLY & DUALLY D2 Lights
**Will NOT work for Flush Mount Lights**
Protection for the Light Lens
Can be used while light is on (Optical Covers Only)
Very Durable-Made from polycarbonate
Snap ON/OFF with ease
Installs in Minutes
RIGID D-Series light covers are the perfect solution for style and function. Give your vehicle a unique look while also protecting your investment. These light covers are made from a durable polycarbonate plastic that offers an extra layer of protection for the lens of your LED light. These covers snap on and off, so swapping them out is simple and easy. They are also perfect for states that require covers on accessory lights.
**Will NOT work for Flush Mount Lights**
Protection for the Light Lens
Can be used while light is on (Optical Covers Only)
Very Durable-Made from polycarbonate
Snap ON/OFF with ease
Installs in Minutes
You Choose Color:
Solid Black-PN: 201913
Solid White-PN:201963
Optical Clear-PN: 201923
Optical Clear/Amber-PN:201933
Optical Clear/Blue-PN:201943
Optical Clear/Red-DISCONTINUED
Optical Clear/Green-DISCONTINUED
Optical Clear/Smoked-PN:201983
CHOOSE THE COLOR IN OPTION MENU
QUANTITY 1 is 1 LIGHT COVER
---
Includes Rigid Industries Limited Lifetime Warranty
Need Help Ordering??
Give Us A Call And We Can Assist You- CLICK HERE
Purchase with confidence, we are an
Authorized Rigid Industries Dealer.
---
*FREE SHIPPING!!!
*For Continental U.S. Shipments ONLY