Description

S&B 75-5137d-1 Intake | Cold Air Intake
Includes Dry Extendable Air Filter
2021-2022 Cadillac Escalade 3.0L Diesel
2020-2022 Chevy Silverado 1500 3.0L Diesel
2021-2022 Chevy Suburban & Tahoe 3.0L Diesel
2020-2022 GMC Sierra 1500 5.3L 3.0L Diesel
2021-2022 GMC Yukon & Yukon XL 3.0L Diesel
See Specific Vehicles Near Bottom of This Page

S&B 75-5137d-1 Intake Special Features:
Dry Extendable Air Filter – Disposable
Quicker Acceleration: Reduces Turbo Lag
More Power: Custom Air Box for Cool, Dense Air
Clear Domed Lid For EZ Inspection & Filter Removal
Easy to install  (See Instruction Link Below)
Improves Fuel Economy: lower EGT's and air resistance
Guaranteed Engine Protection: tested to the ISO 5011 Filtration Standards.
Efficiency Rating 99.33%
This Intakes Air Flow is 51.56% BETTER than the Stock Intake
Do You Want This Intake With A CLEANABLE Air Filter?  CLICK HERE
Why Choose S&B Filters??
S&B Filters Cold Air Intake Filter Kits are all about improving your vehicle's engine performance. It's just a matter of exceptional design. The State of the art engineering maximizes airflow while providing a fit that rivals stock. Great looks are just the beginning. S&B Cold Air Intakes are easy to install providing you with an OE fit and aftermarket performance.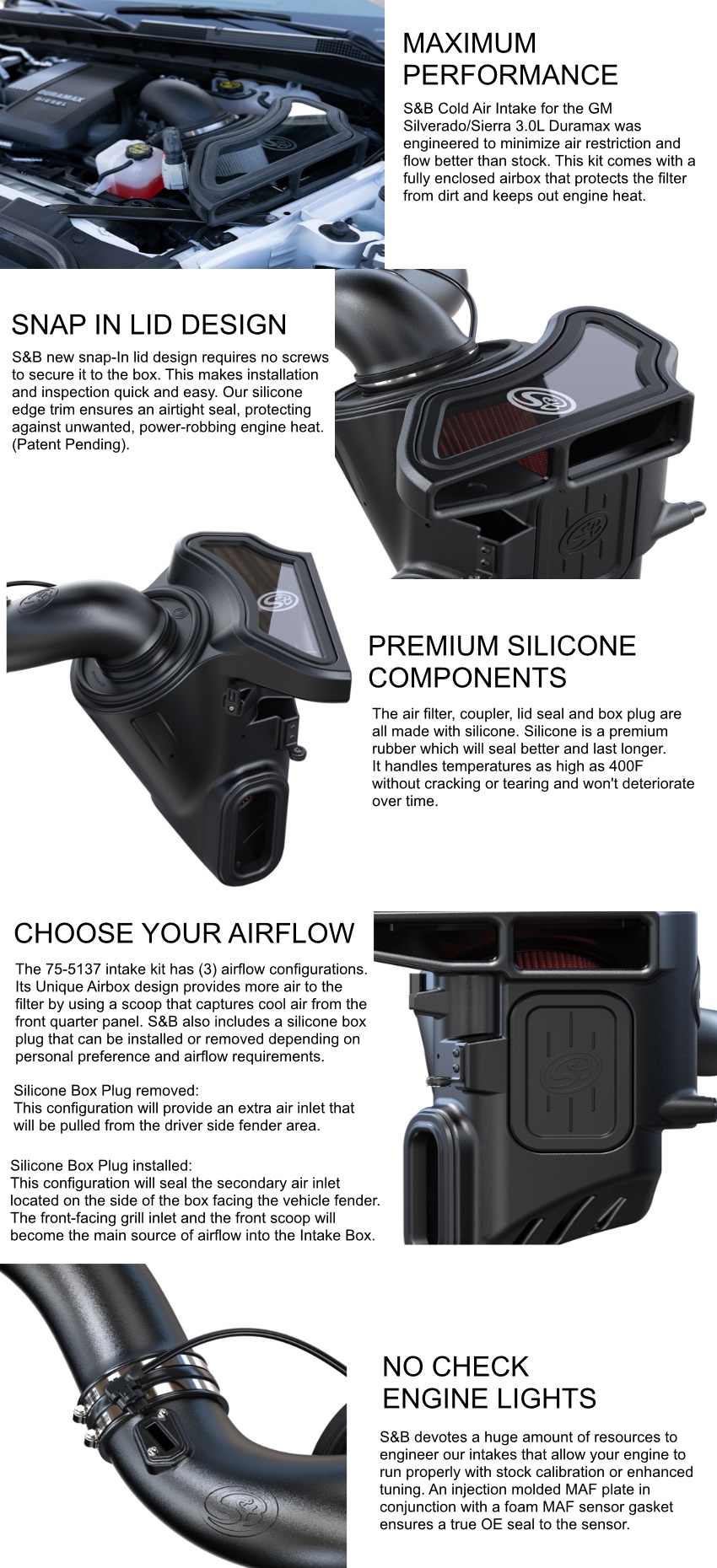 ---
MILLION MILE WARRANTY
S&B air filters and intake kits purchased from Authorized Dealers are backed by S&B's Million Mile Limited Warranty when used under typical driving conditions and on vehicles for which they were designed. If one of our products is not performing properly or is defective, S&B will replace it.
What is not covered by the S&B Warranty- If you use an S&B product for (1) any type of racing or competitive event (2) any off-road use, (3) custom or modified product, (4) any industrial or marine applications, and/or (5) any illegal highway use. If an S&B product is not covered by our million mile warranty, our products are still warranted against manufacturing defects for one year from the date of purchase.

Need Help Ordering??
Give Us A Call And We Can Assist You- CLICK HERE
Purchase with confidence, we are an Authorized S&B FILTERS DEALER.
---
The S&B Filters 75-5137d-1 CAI Fits:
2022 CADILLAC ESCALADE3.0L Duramax Diesel
2022 CHEVROLET SILVERADO 1500 3.0L Duramax Diesel
2022 CHEVROLET SUBURBAN & TAHOE 3.0L Duramax Diesel
2022 GMC SIERRA 1500 3.0L Duramax Diesel
2022 GMC YUKON & YUKON XL 3.0L Duramax Diesel
2021 CADILLAC ESCALADE 3.0L Duramax Diesel
2021 CHEVROLET SILVERADO 1500 3.0L Duramax Diesel
2021 CHEVROLET SUBURBAN & TAHOE 3.0L Duramax Diesel
2021 GMC SIERRA 1500 3.0L Duramax Diesel
2021 GMC YUKON & YUKON XL 3.0L Duramax Diesel
2020 CHEVROLET SILVERADO 1500 3.0L Duramax Diesel
2020 GMC SIERRA 1500 3.0L Duramax Diesel
If your vehicle is not listed above CLICK HERE
---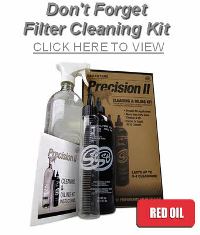 ---
*FREE SHIPPING!!!
*For Continental U.S. Shipments ONLY