Description

S&B 76-2005 Particle Separator
by S&B Filters®
Direct Fitment for
2012-2018 Arctic Cat Wildcat X 1000
2012-2018 Arctic Cat Wildcat 4X 1000
2018-2018 Textron Wildcat X 1000
2018-2018 Textron Wildcat 4X 1000

Do you have a different model UTV?  CLICK HERE
Military Grade Air Filtration for Wildcat XX UTV
Watch Video Below
Using the same technology military helicopters use to maintain power in extremely dusty conditions is now available for your UTV. S&B's Particle Separator removes 94%* of dust from the airflow before it even reaches the stock filter. This dramatically extends the lifespan of your UTV's air filter, so you maintain horsepower and torque for a much longer period of time. Go further, faster, while saving money.
Why Do You Need To Use A S&B Particle Separator??
Finish Faster with MORE Power.
A UTV's filter can clog quickly, robbing the engine of power. The S&B Particle Separator is a game changer, allowing the UTV owners to maintain horsepower and torque by keeping their filters cleaner for a much longer period of time. S&B designed this system large enough so when used with factory filter system that there is no loss of power.*
Dramatically Extend Life of Your Filter.
The S&B Particle Separator removes 94% of dust from the airflow BEFORE it reaches your air filter, allowing your filter to last 15 times longer before reaching capacity.*
Save You Money.
With the S&B Particle Separator, one(1) air filter will last as long as 15 would without the S&B System.* The S&B Particle Separator pays for itself and even saves you money because of you will have to buy less filters. The average price of an OE air filter is $75 times 15 units over time equals approximately $1125. With the S&B Particle Separator you save $726 during that time period.

---
Product Specs and Features:
S&B PN: 76-2005
Efficiency Rating: 94%
Amp Draw: 3.1 amps
Clamp Diameter: 1.75"
Duct Length: 39"
Weight: 11 pounds
Dimensions: 20.2" W x 10.5" H x 10" D
Can Install on Stock or Aftermarket Roll Cages
Easy to install(Installs in about 30-60 minutes)
Everything Needed Install Included
Easy to Follow Install Instructions Included
Includes S&B Warranty
See S&B 76-2005 The 3 Mounting Positions…

---
How It Works
Product Video (snow) of S&B 76-2005
---
Add A Stainless Steel Face Plate
See Option Menu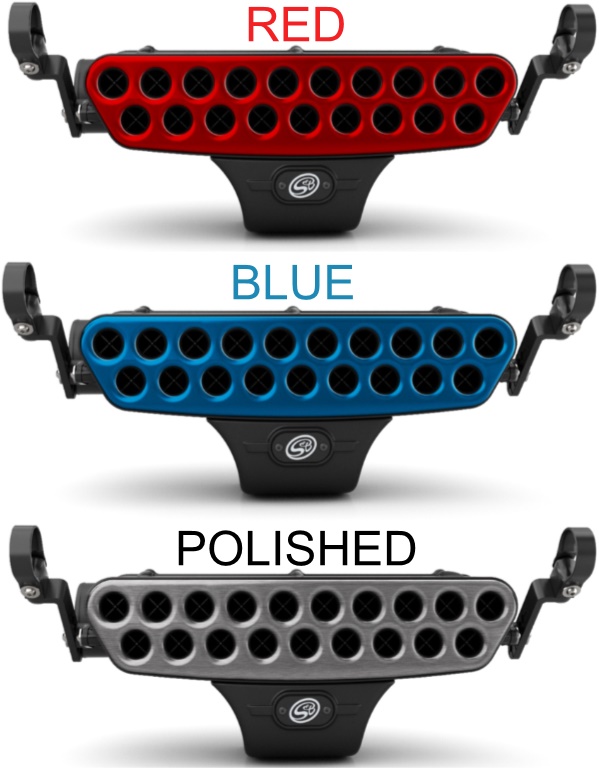 ---
Warranty for S&B UTV Particle Separators
S&B warranties the electrical components of the Particle Separator's scavenge fan and wiring harness for 3 years from the date of purchase. The warranty DOES NOT cover broken fan blades. In close proximity of another UTV, there is the potential to get Roosted. Getting Roosted is when small rocks from the vehicle in front of you may fling into the Particle Separator's inlets and break the fan blades. If you do get roosted frequently, to learn more about our Roost Protector. The 3.5″ flexible ducting comes with a one (1) year warranty.
Need Help Ordering??
Give Us A Call And We Can Assist You- CLICK HERE
Purchase with confidence, we are an Authorized S&B Particle Separators Dealer.
---
*FREE SHIPPING!!!
*For Continental U.S. Shipments ONLY