Description

Truxedo 298601 TruXport Tonneau Cover
FITS:
2009-2014 Ford F150 *

* Models with 8 Foot (96″) Long Beds ONLY
If Above Listed Is Not Your Vehicle  CLICK HERE
The Truxedo 298601 TruXport is a smooth looking top-mount, roll-up cover with quality features at an economical price. Therefore the TruXport is easy to operate with pre-set tension control and bows that conveniently roll up within the cover.
The TruXport comes with an industrial strength hook-and-loop system that provides continuous contact between the rails and the cover in all climates.  Straight bows provide a smooth, flat look when closed.
Specs and Features:
Weight Capacity: SNOW LOAD
Style: ROLL UP
Color: BLACK
Material (cover): HEAVY DUTY VINYL
Finish(cover): VINYL GRAIN
Mounting: ON TOP OF BED CAPS
Locking: INTEGRATED LOCK
Includes EZ to Read Install Instructions
Includes 5 Year Mfg Warranty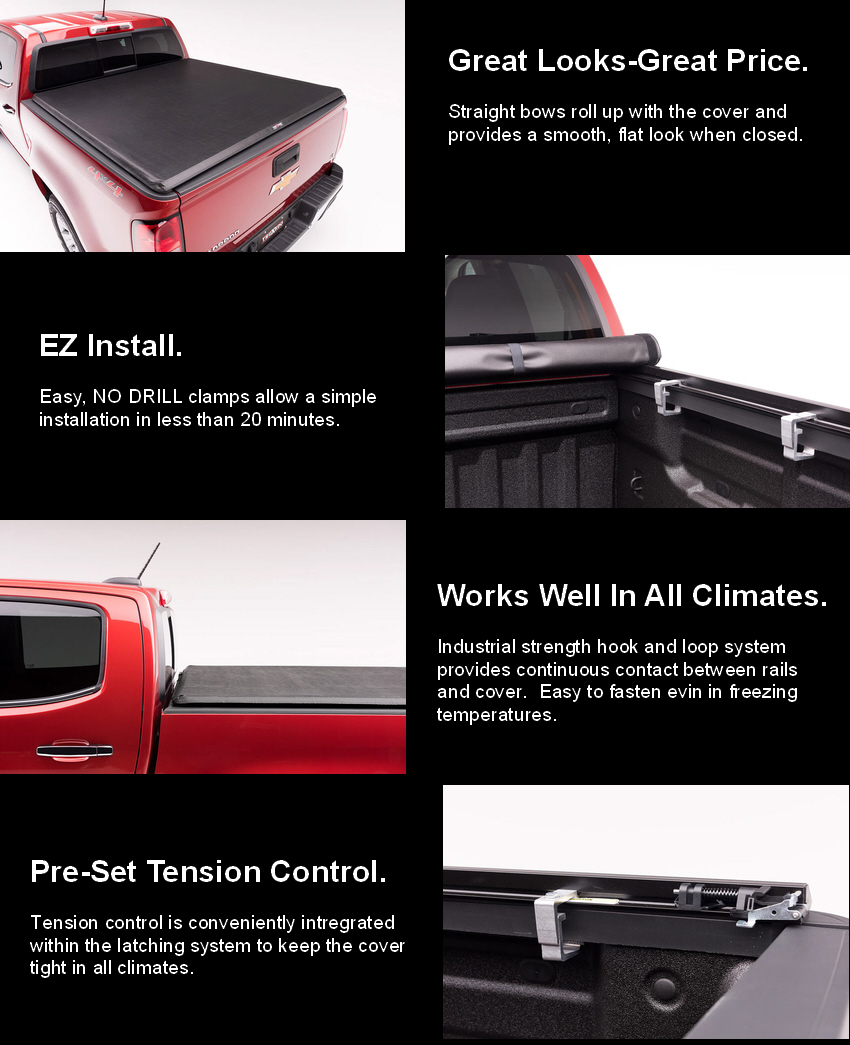 That is to say the Truxedo Top Mount Design allows the TruXport to sit 1.5″ above the truck bed providing distinctive good looks. The Truxedo also uses quality leather grain fabric that will protect your cargo from the harshest of elements.
The Pre-set tension controls are conveniently integrated into the dual latching system to keep the cover tight and looking its best all year round. The Truxedo dual paddle latches are easily accessed at both sides of the truck, securely fastening the cover to the bed. Lastly, the Truxport has a sleek and stylish design with it's straight across tubes that provide a smooth, flat look.
---
Truxedo 298601 Truxport  Fits:
2014 FORD F150
2014 FORD RAPTOR
2013 FORD F150
2013 FORD RAPTOR
2012 FORD F150
2012 FORD RAPTOR
2011 FORD F150
2011 FORD RAPTOR
2010 FORD F150
2010 FORD RAPTOR
2009 FORD F150
8 Foot (96") BED ONLY
If Above Is Not Your Vehicle  CLICK HERE
---
When You Buy From Assured Automotive  You Get
5 Year TruXedo Warranty
TruXedo, Inc. warrants that all new products are free from defects in material and workmanship. Therefore warranty is effective if the product is properly installed and used for the purpose intended and applies to the original buyer only. Subsequently TruXedo, Inc.'s obligation under this warranty is limited to the repair, or at its option, replacement of any part returned, transportation prepaid, to TruXedo, Inc., Yankton, SD, if the product is, in our judgement, defective.
Likewise all materials returned without prior authorization will be refused. TruXedo, Inc. shall not be liable or responsible to supply or pay labor to replace any part found defective, nor shall it be liable for any damages of any kind or nature to person, product, property or downtime. Above all there are no warranties for products that have been repaired, altered, modified or subjected to misuse, negligence, accident or ordinary wear and tear. In Conclusion TruXedo, Inc. will not honor warranty claims if non-genuine parts are utilized.
---
Need Help Ordering??
Give Us A Call And We Can Assist You- CLICK HERE
Purchase with confidence, we are an
Authorized Truxedo Dealer.
---
*FREE SHIPPING!!!
*For Continental U.S. Shipments ONLY