Description
Weigh Safe LTB4-2.5
4″ Drop Hitch For Use with 2.5″ Receiver Hitches
Includes 2″ & 2-5/16″ Ball Sizes
Superior Aluminum and Stainless Steel Construction
Stainless Steel Flip-Over Ball
From the first moment that you lay eyes on the Weigh Safe LTB4-2.5 180° Hitch you'll see that you're getting a superior, well-made product. The 180 Hitch's shank and ball mount platform are made entirely of 6061 T6 billet aluminum, which is the same material that is used to build aircraft components, automobile frames, and freight liners.
This type of aluminum is known for having superior strength while maintaining its light weight, which makes it highly desirable over hollow steel components. 6061 T6 aluminum is also rustproof, which means the 180 Hitch will maintain its clean, shiny, and impressive appearance for years to come. And the hitch balls are made of solid stainless steel, offering far greater protection against rust and corrosion than other steel hitch balls that are only painted or plated on the surface.
The 180 Hitch meets VESC V-5 regulations and is SAE J684 certified. These regulatory bodies – the Vehicle Equipment Safety Commission and the Society for Automotive Engineers – create standards for the design, construction, and performance of automotive and towing accessories. Weigh Safe has had this ball mount thoroughly tested in simulation to ensure that it complies with these standards. The result is a strong, safe, sturdy product that is built to last.

If You Have A Different Size Receiver   CLICK HERE
---
Adjusts Easily To Your Setup
Towing trailers with different coupler sizes just got easier thanks to the 180 Hitch 2-ball mount. Subsequently this ball mount features a 2″ and 2-5/16″ hitch ball on opposite ends of the ball mount platform. Switching to the opposite ball is fast and easy – simply flip over the platform, hitch-up, and go! Because both balls are contained on the platform, you won't have to keep track of separate balls that must be completely removed and installed each time you need to switch trailers.
Adjusting and setting up the 180 Hitch 2-ball mount to work with your specific trailer is easy. Therefore to switch hitch balls, unlock and pull out the dual pins and remove the platform from the shank. Next, flip the platform 180 degrees so that either the 2″ or 2-5/16″ hitch ball is on top. Then replace the platform and slide it along the shank to the desired height. Insert the dual pins and use one of the included keys to lock the pins in place. A dual-sided hitch ball with a 1-7/8″ and a 2″ hitch ball (TB03 – sold separately) is also available.
The 180 Hitch 2-ball mount can be used in either the drop or rise position to best suit your application.
Weigh Safe LTB4-2.5 Features:
Ball mount with included hitch balls lets you hook up your trailer to your tow vehicle
Shank slides into hitch receiver
Ball provides connection point for trailer coupler
Adjustable height lets you tow trailers of different heights with the same vehicle
Slide ball mount platform up or down shank and secure in place with included dual pins
2 Different-size hitch balls let you tow trailers with different coupler sizes
Stainless steel hitch balls are corrosion resistant
Locking dual pins secure the ball mount platform to the shank for added security
2 Keys included
Plated steel lock with aluminum pins and housing resist corrosion
Included rubber cover protects the lock core from dust and debris
6061 T6 billet aluminum shank and mounting platform provide superior strength and durability
Solid block construction provides greater strength than hollow steel competitors while also maintaining a light weight
Rustproof for a clean finish that stands the test of time
Hitch pin and clip or hitch lock sold separately
SAE J684 certified and VESC Regulations V-5 compliant
Made in the USA
Weigh Safe LTB4-2.5 Specs:
Application: 2.5″ x 2.5″ trailer hitch receivers
Gross towing weight:
2-5/16″ Diameter hitch ball: 18,500 lbs
2″ Diameter hitch ball: 8,000 lbs
Max tongue weight: 2,200 lbs
Maximum drop: 4″
Maximum rise: 5″
Incremental height adjustment: 1″
Limited Lifetime Warranty
---
How It Works Video
---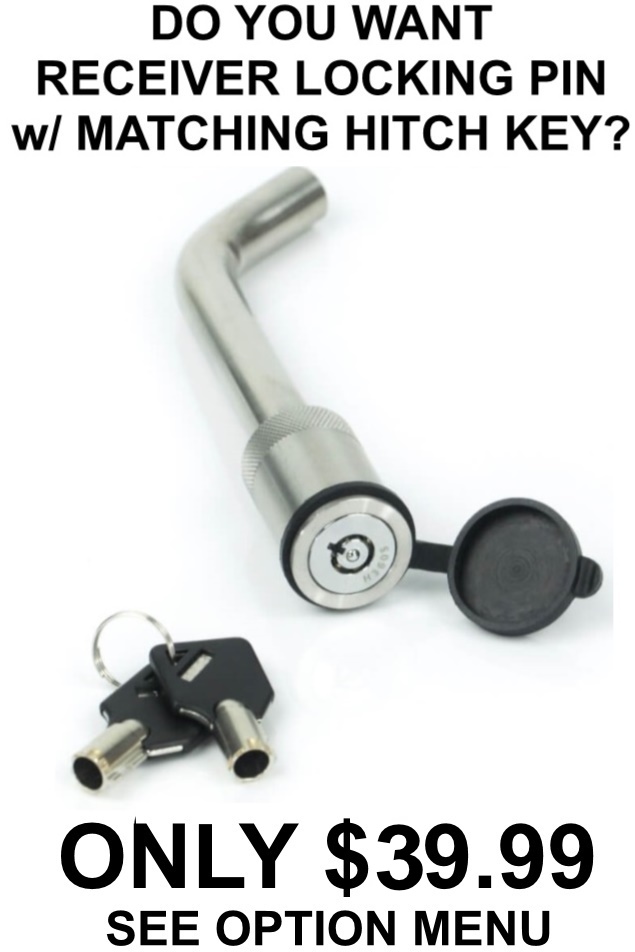 ---
Get Weigh Safe Lifetime Warranty
When You Buy From Us, An Authorized Dealer
Need Help Ordering??
Give Us A Call And We Can Assist You- CLICK HERE
Purchase with confidence, we are an
Authorized Weigh Safe Dealer.
---
*FREE SHIPPING!!!
*For Continental U.S. Shipments ONLY