Description

Assured Performance Raging Bull Horn
12v Electric Horn – Easy Install
Check Out Our Demo Video Below
CLICK HERE TO WATCH ON YOUTUBE
This video does not do justice to just how cool this bull horn is.
The Bull Horn can be mounted in engine compartment.
This is great novelty item for anyone!!
It has a simple wiring design and can literally be installed in just minutes.
Super Easy 12v Install
The Assured Performance horn will work on Cars, Trucks, & SUVs,
It is awesome for UTV & Golfcarts.
This Assured Performance horn is super easy to install.
This horn weather proof and can be mounted in in a location that gets wet.
This Bull Electric Horn only draws about 2.5 amps so there is not need to use a relay or special switch.
This Horn can be installed to anything that has a 12v DC battery.
The ACHRKS-444r is a replica sound of the original Bull horn for a fraction of the cost.
If you are looking for something to bring joy to other road users without spending a fortune, this is your answer.
ACHKS-444r Specs:
Part# ACHRKS-444r
DB: 110 @ 10cm
Life Cycle: 100,000 operations
Tone: BULL "Raging Bull"
Horn Dimensions: 7.5" T x 5.5 W x 6.6"
Trumpet Material: Metal – Powder Coated Red
Motor Shield Material: ABS Plastic
Motor: 12v Heavy Duty PMGR
Mounting Hardware: Included
Wiring:  NOT Included
Switch: NOT Included
Instructions: Included
Assured Performance 90 Day Warranty
---
How To Operate The Assured Performance Bull Horn.
This Bull Horn just needs a 12 volt power source.
When you activate your horn switch it put out a crisp "Raging Bull"  sound.
The solid state construction of the electric motor is quality that you will be impressed with
Wiring The Horn.
This Assured Performance Bull Electric Horn is so simple to install.  You first need a momentary switch.  You can use your factory OE horn switch (steering wheel) or you can use you own switch.  Assured Automotive offers a deals on switches, see the options.  Coming out from the shield on the horn motor is a single wire lead. This wire is a  positive (+) lead goes to a 12v positive from your monetary switch or the positive wire coming from your OE horn switch. The mounting plate a negative ground. You may bolt to a metal grounded accessory on the vehicle or run a wire from negative to battery negative or a ground.
---
Select Your Horn Switch or Use Your Factory OE Switch
You can use OE Horn Switch (steering wheel) to activate solenoid.
If you don't want to use your OE horn switch you may choose to install a momentary horn switch.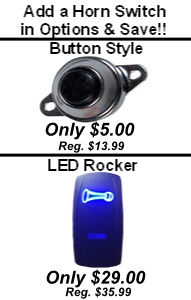 ---
*FREE SHIPPING!!!
*For Continental U.S. Shipments ONLY