Description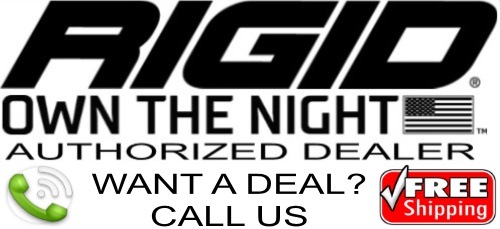 Rigid 220413 Adapt 20″ LED Light Bar
Powerful Adaptive Projection
8 Projections from Flood to Driving
Over 14,700 Lumens!!
SR-Series PRO (Professional Race Output)

RIGID® Adapt™ 20" LED Light Bar
The Rigid 220413 Adapt LED Light Bars is the first of it's kind to adjust beam pattern based on your vehicle speed using Rigid's Active View™ Technology using the included Adapt GPS module kit). The Adapt light bar is the world's first off-road lighting products that can change instantly according to conditions. The Rigid Adapt offers eight selectable beam patterns that range from a 90 degree broad short-distance beam to a highly focused 15 degree long-distance spot beam in a single fixture. Foremost you can manually select beam patterns or use the included GPS module.
There are no moving parts within the Adapt. Instead, RIGID uses advanced LED technology and combines it with patented new optics to create a revolutionary lighting solution that can Adapt with changing conditions. Further, Adapt has built-in accent lighting that can be set to any color in the light spectrum, including white, for a custom look around town.
The Adapt has a signature new look that is unlike any other light bar on the market
It even has expanded mounting capabilities that include new base-mounting options in addition to traditional side mounts.  Firstly the Adapt LED light bars include a RIGID Dash Controller, which is a molded backlit dash-mounted unit that offers easy, intuitive control of Adapt's beam patterns, Adaptive Mode, accent lighting, and programmable presets.  Secondly the RIGID Adapt Light Bars include a RIGID Dash Controller, Under Dash Module, GPS Module, wiring harness, and mounting hardware. Lastly with the RIGID Adapt, it has never been easier to Own the Night.
Therefore get the very most of the RIGID Adapt with the included Adapt GPS Module Kit needed for Adaptive Mode. Using the GPS Module is a simple plug-and-play installation. Adaptive Mode utilizes the RIGID's new Active View Technology, which automatically transitions through the Adapt's 8 beam patterns based on vehicle speed.  Lastly all Adapt light kits consist of compact module that plugs into the Adapt under-dash controller, a small GPS antenna, and all of the wiring necessary for installation.
Rigid 220413 Specs:
RIGID PN: 220413
Optics: Adapt
Housing Color: Black
Mount Type: Surface
Projection LED Color: White
Voltage: 9-36 V-DC
Max Watts: 187 (Setting #4)
AMP Draw: 13.4 (Setting #4)
Raw Lumens: 14720(Setting #4)
Max Beam Distance at 1 Lux (m): 690
Bar Length (Not Including Mount Studs) : 52.16"
Features:
Active View Technology
Automatically Change Beam Patterns Based On Vehicle Speed
(using the included ADAPT GPS Module)
Dash Controller with Wiring Harness
8 Selectable Beam Patterns From 15-Degrees to 90-Degrees
Integrated Optic Design with Spot, Flood, and Driving Zones
Selectable RGB-W Accent Lighting
(Choose From Any Color in the Light Spectrum)
Back Lit Molded Dash Controller
(Enables User to Select Mode, Accent Color, Adaptive Mode, and Select Between 2 User Presets)
2 User Presets – Preset Both Beam Pattern Mode & Accent Lighting Colors
Multiple Mounting Locations; Traditional Side Mounting or Underside Low-Profile Mount.
Designed and Engineered in the USA
A U.S.A. Company
RIGID Limited Lifetime Warranty
---
Rigid 20″ Adapt Data


---
Check The Rigid Adapt In Action
---
Don't Forget To Get Stealth Adapt Mounting & Security Kit
CLICK HERE
---
Why RIGID Lights??
Get More for less by Going GREEN!
The Rigid LED will decrease your expenses and reduce your power consumption. Firstly, the Measurement of Light is Lumens per watt.  Secondly how much light is produced for every watt of electricity used?  The need for generators, for example,  is reduced and not a drain on your battery compared to tradition lighting. In conclusion with 10 years+ of redefining LED Lighting for the Power Sports Industries, Rigid Industries patented technologies and high performance products continue to raise the bar.
LED Lifetime – 50,000+ hours
The Rigid LEDs are solid state devices with no moving parts, therefore, they are able to withstand shock and vibration better than the traditional Halogen, HID and Xenon lights.  The expanded life of the LED means that they will last for over 50,000 hour.  However,  compared to Halogen and Xenon lights which typically last up to 1,000 and 5,000 hours respectively.  Therefore after considering the extreme conditions of the off road environment,  Rigid LEDs are the logical choice for all your lighting needs.
Tired of Changing Bulbs and Repairing Damaged Parts?
In Short the Rigid LED Lights are manufactured to withstand the harshest environments that mother nature can dish out. In addition the LED Lights are made with only the finest marine grade materials available. Therefore the manufacturing process ensures LED Lights that are resistant to water penetration, shock and vibration. Touch them once, then sit back and admire the performance for the life of your boat. In Conclusion, everything should be this simple and enjoyable.
---
Includes Rigid Industries Limited Lifetime Warranty
Need Help Ordering??
Give Us A Call And We Can Assist You- CLICK HERE
Purchase with confidence, we are an
Authorized Rigid Industries Dealer.
---
*FREE SHIPPING!!!
*For Continental U.S. Shipments ONLY