Description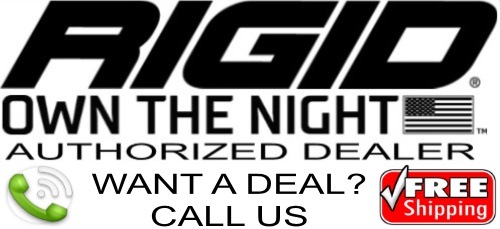 Rigid 884213BLK 40″ RDS-Series Midnight Edition
Rigid Midnight Edition Blacked Out LED Light Bar
Curved Radius Bar for 10° Beam
Powerful Dual Row Hybrid Optics
Produces 35,640 Raw Lumens!!
RDS-Series PRO (Professional Race Output)

PRO Rigid RDS-Series
This Rigid 884213BLK RDS-Series Radius LED Light Bar is offered with patented Hybrid Spot optic and will project a 10° conical light beam. Likewise the straight LED light bars projects a 10° beam. Rigid Industries combined the patented optics and the RDS Series PRO radius housing.  You now get the fantastic light distance, but in a RDS-Series. Lastly the beam in the radius LED light bar projects nearly 50° wide!!
RIGID revolutionized the lighting industry with the introduction of the RDS-Series. The recent advancements in LED technology have made them more powerful than ever before with the RDS-Series PRO, Professional Race Output. Lastly with an improved output of up to 70% more raw lumens, the RDS-Series PRO projects more usable light exactly where it's needed on the road ahead.
Basically a Curved E-Series..
Therefore by taking an E-Series light bar and treating it to a gentle arc, the patented RDS-Series PRO provides a sleek, integrated look with the curved windshields and bumpers on today's trucks and SUVs. The curve is for more than just looks, it is also functional: the arc of the RDS-Series PRO light bars provides a wider spread of LED light, providing unmatched lighting coverage with a single light bar. RDS-Series PRO also includes updated branding and blacked-out circuit boards for a more refined look. It's all about stealth with RIGID's new Midnight Optics.
The highest center of intensity in the RDS-Series projects a distance of approximately one mile. The Rigid RDS-Series will those offroaders who need to light great distances, yet also light up the ditches on the side of the road.
Just like all Rigid LED Lights, this Rigid 884213BLK RDS-Series light bar has IP68 sealing, easy mounting and adjustment and of course reliable securement.
Rigid 884213BLK Specs:
RIGID PN: 884213BLK
Optics: Hybrid
Housing Color: Black
Mount Type: Surface
LED Color: White
LENS Color: Smoked (Black-Out)
LED Quantity: 80
Projection: Spot
Voltage: 9-36 V-DC
Watts: 275
AMP Draw: 19.64
Raw Lumens: 35640
Light Bar Dimensions: 42.52"W X 3.25"H x 7.375"D
Includes:
Surface Mounting Hardware
Plug-n-Play Wire Harness
Deutsch Electrical Connector and Switch
Features:
Patented Hybrid Black-Out Optics
(Patent# 6,986,593, b2)
Spot Beam Pattern
Authentic LED Chips and Driver Circuitry.
Reverse Polarity Protected
IP68 Certified ROHS Compliant
Gore Pressure Equalizing Vents.
Unbreakable Polycarbonate Lens
A360 High Purity Aluminum Cast Housing.
Durable UV 3800 Polyester Powdercoat.
Over/Under Voltage Protection
Operating Temperature -40 to +145 deg. F.
Superior Protection Against RFI/EMC Interference.
MIL810-STDG Vibration Certified
ASTMB117 Salt/Fog Certified
Integrated Thermal Management System.
Designed and Engineered in the USA
A U.S.A. Company
RIGID Limited Lifetime Warranty
---
Protect Your Investment
Add Get Security Nut Kit
CLICK HERE
---
Why RIGID RDS Lights??
RDS-Series
Above all this linear light bar is the legendary flagship E-Series™ light bar treated to a gentle arc, creating a curve in a 20"-54"extruded aluminum housing and packed full of Rigid Industries® Spot™ LED technology to produce an astonishing custom look for any car, truck or offroad vehicle. The RDS-Series™ is the apex of form and function.
The Rigid Industries® RDS-Series™ is another first for the LED lighting industry and has been in testing and pre-production for the last two years and was first tested by BJ Baldwin as seen on his trophy truck at Parker 300 in January 2012. S ince that time, Rigid Industries' engineering team has been through numerous design changes, incorporating multiple patent pending utility and design features. In conclusion the RDS LED light bar transforms the rectangular light bar Rigid Industries created. Which became a phenomenon in 2006, to give this futuristic design sleekness and offer its customers an increased light spread. The world is curved, match it.
RDS Technology
RDS Output Technology requires a new way to measure light.
Continuous Arc Intensity (CAI) is the new way to measure this light intensity. Since the array of LEDs are not pointing in the same direction the SAE methodology to measure intensity does not apply. One can still measure intensity, bit it is spread over an arc at a constant intensity.
Continuous Arc Width (CAW) is the width of a continuous intensity as shown in CAI, this is measured in degrees of light projected, For example, the 54" RDA-Series light bar has a 46° spot beam.
Continuous Arc Distance (CAD) is the distance using SAE methodology to measure .25 LUX as max beam distance. That is to say the difference is that ''Arc Distance is measured over the entire width of the CAI, not just the beam center point.
Firstly you cannot beat Rigid Industries Quality Construction. Rigid's circuitry is designed in-house to be more powerful, be more efficient, and generate less heat. Further more the durable aluminum housings feature custom, over-sized heat sinks which keep the temperature down.  This allows Rigid LED's to run cooler and brighter.  Secondly all Rigid Industries LED lights receive a high quality powder coat finish. Lastly uses a custom-molded rubber seal, and an unbreakable, scratch resistant lens.  The Rigid Industries LED lights are engineered to withstand whatever you, the road, or nature can throw at them.
---
Includes Rigid Industries Limited Lifetime Warranty
Need Help Ordering??
Give Us A Call And We Can Assist You- CLICK HERE
Purchase with confidence, we are an
Authorized Rigid Industries Dealer.
---
*FREE SHIPPING!!!
*For Continental U.S. Shipments ONLY